Website Launch Announcement: Pinnacle Hospital Launches New Website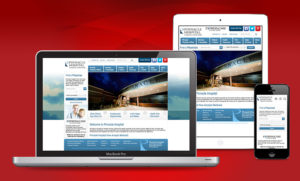 Crown Point, Indiana (December 17, 2013) – Pinnacle Hospital is eager to announce the launch of the next generation website for www.pinnaclehealthcare.net.
Pinnacle Hospital collaborated with the website development and marketing team of Digital Hill Multimedia Inc. to provide a more comprehensive source of company information and services. The new site features a fresh design, focused on delivering information pertaining to healthcare services in an easy to navigate, aesthetically pleasing approach. Improved features and key sections include: Services & Specialties, Patients & Visitors Resources, and Find a Physician.
Pinnacle Hospital is focused on superior service, putting the patient squarely at the center of every aspect of care. Pinnacle was founded by physicians in various specialties who are dedicated to improving the healthcare experience for all their patients. Among acute care hospitals, the result is culture changing!
For more information about Pinnacle Hospital, and to see the new website please visit www.pinnaclehealthcare.net.
Contact:
Cindy Krachinsk
info@pinnaclehealthcare.net
219.756.2100