Why Gutenberg is Better than Visual Composer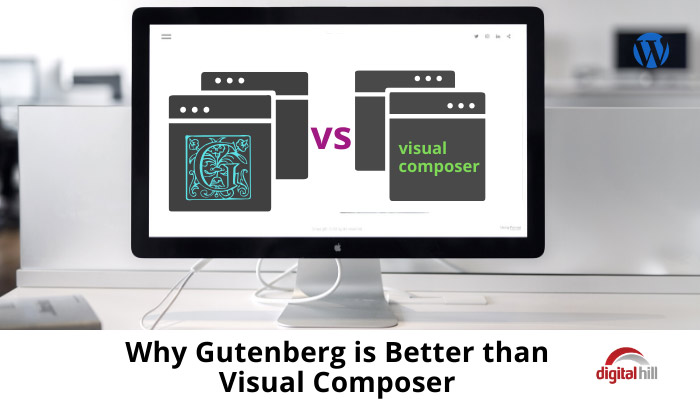 Over the past several years, many content editors have been created to help non-developers build their webpage with ease. These editors include, among others, Elementor, Divi Builder, Page Builder, Thrive, and perhaps the best of the lot – Visual Composer.
To date, millions of WordPress sites have been built partially or fully using Elementor or visual composer. The page builder seamlessly integrates with most WordPress themes and has significantly lowered the barrier for entry-level website developers. Together with other page builders, the editor has also considerably contributed to the influx of WordPress users.
As a result, many users are wondering why they should ditch the tried and tested Visual Composer in favor of Gutenberg. What makes Gutenberg so special?
4 main reasons why Gutenberg better than Visual Composer
1. Gutenberg is simpler
Being the official page editor for WordPress 5.0, Gutenberg serves a broader base of users. These include experienced developers building professional websites, starting developers working their way through the WordPress world, and non-developers using WordPress to share content and pictures. While page editors such as Visual Composer don't have to cater to each of these categories of users, Gutenberg does.
The developers at Visual Composer, for example, assume that only advanced coders would be interested in developing complex page layouts, which isn't always true. Gutenberg doesn't make such assumptions. Instead, the editor is simplified as much as possible to ensure that everyone has the chance to build the best possible site for their needs and style.
2. Gutenberg theme advantages
Another reason Gutenberg beats other WordPress page builders such as Visual Composer is that you can now look forward to Gutenberg based themes. If you already have a full-fledged website, having a Gutenberg theme would be a huge advantage. That's because the in-built modification choices ensure that you have everything you need in one place.
Gutenberg, for instance, offers options such as choosing text colors, drop cap, background colors, and so much more. Unlike in the past, these style options are integrated into the theme meaning users have tons of design flexibility, so you can make your website uniquely yours. This is different from the standard page builders, where most style options aren't built into the theme and it can be difficult to change.
3. Plugins are created in Gutenberg
Gutenberg is now the official tool of WordPress. From WordPress 5.0 onwards, all versions will have Gutenberg. As a result, developers have the incentive to develop plugins that integrate directly with the editor.
The same cannot be said about Visual Composer and other standard content editors. While we have a couple of plugins that integrate with Visual Composer, it's a much smaller number because developers know that only a small fraction of WordPress users use the page builder. Gutenberg, meanwhile, will soon serve all WordPress developers, providing developers with a bigger market, thus a greater incentive and more options for you.
4. A larger pool of developers
Finally, the sheer number of Gutenberg developers makes it a better option than Visual Composer going forward. Visual Composer is a private project, it has its owners and developers who decide what to add or remove from the page builder.
Gutenberg is different. As part of WordPress, it's an open-source program, meaning that any developer can contribute by making a pull request. The open-source nature will give Gutenberg a momentum that propriety page builders can't match. Whether it's the development of new code or fixing existing problems, you can expect faster action on Gutenberg than Visual Composer. Even the support feature is much better in an open-source environment.
Gutenberg is the Future
To wrap up why Gutenberg is better than Visual Composer. Propriety page builders such as Visual Composer remain useful tools among WordPress users, especially developers. However, ultimately, Gutenberg's simplicity and (enforced) popularity will soon make it the go-to WordPress editor. Are you ready to jump on board?