Will Gides be the Social Media Platform of 2021?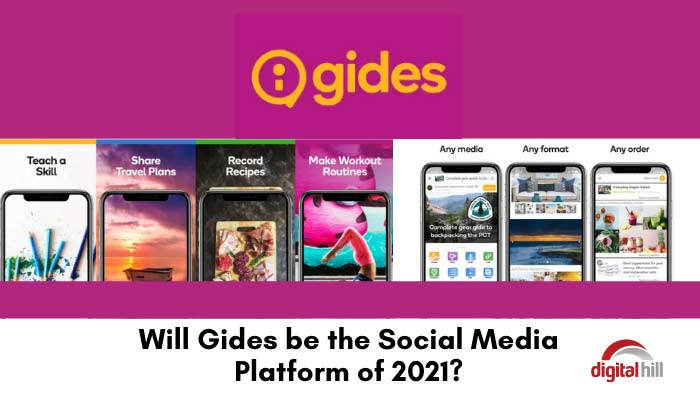 Will Gides be the social media platform of 2021? Over time, social media platforms have been used widely in digital marketing. Various platforms go hand-in-hand with digital marketing campaigns and strategies. However, these platforms are far from being static, and current ways of use with your marketing may not provide the same results down the road. Platforms evolve rapidly, customer habits change, and new social media platforms appear.
The combined effect of these changes affects how people will use and react to social media marketing. Additionally, it can alter the ability of marketers to reach their intended audience effectively. It's critical that digital marketers need to stay ahead of the curve. As of now, a new social media entrant, Gides, may become a social media platform of choice for 2021. Here are the reasons why.
What is Gides?
Think of Gides as the YouTube of blog posts. It is a recently developed web publishing and sharing social media tool with multipurpose use. The tool will be released mainstream soon but getting to know the features and intrigues of this channel now will keep you ahead. The platform comes as an alternative to various social media and web-publishing tools like Instagram and YouTube, as it combines the functionality of multiple tools.
Digital businesses often have unlimited social media options they can use to engage their online community. Instagram is likely the highest-ranking and preferred option for many. However, it is really only great for photos and short videos. Users are unable to create dynamic updates or hyperlinks to external sources. Twitter has a 280-character limit with poorly performing photos and videos, whereas Facebook just doesn't quite make the cut in the current digital marketing space for those under 20 years old.
For quite some time, top social media platforms came in handy for creating an online community effectively. However, they are flooded with fake accounts, which makes it difficult to connect with real/potential customers, and their algorithms are spiraling into implausible directions.
YouTube is another incredible platform, which made publishing quite easy. However, users have to record videos to share their content instead of writing an article with photos and hyperlinks. The majority of YouTubers had to write a script and read it while recording videos. Digital businesses also required a well-optimized website to complement their marketing strategies with these platforms.
Why Gides could be the 2021 Platform of Choice
Gides may likely become a hit in the coming year for multiple reasons. To begin, this upcoming social platform/community allows everyone to share their multimedia content globally from their smartphones. The ability to post all types of content on one platform is the biggest advantage of Gides. Users can share articles, photos, videos, links, and respond to their posts with ease. Gides eliminates the initially existing communal platform barriers to allow multimedia publications.
From this platform, you can share hobbies, entertaining skits, and marketing pieces without logging in to multiple social media channels. As you know, the current social media space and Web 2.0 have filtered how news and updates reach platform users. The current algorithms and platform limitations also restrict the distribution of information within the platforms.
Gides, on the other hand, provides a free and unrestricted opportunity for users to share their content. Directly from their smartphones, users can create a quick post about a developing story, add photos or video, and share with a ready community. This somehow reflects how independent media should operate.
How to use Glides
Gides is a social media platform for showing what you know and want. Users are able to share the content how they want, when they want. You can also add to, edit, and even rearrange your posts as often as you wish. This keeps posts on the platform evergreen and relevant throughout their lifetime. This key feature helps eliminate the challenge with other platforms where users scroll through endless wall feeds.
What makes Gides special, however, is the transparency. As you may be aware, the current social media platforms and web applications have filtered what you can see when you visit your feed. The platforms' algorithms effectively decide what you can and can't see. As a result, you may miss out on important news and updates for no good reason.
Gides removes these barriers, allowing users to share content with friends and their on-platform communities without restrictions or any form of discrimination. The best part? You don't need to be registered on any social media platform (Facebook, YouTube, Twitter, etc.) to use Gides. Everyone is free to join the platform, share their creations, and interact with other users' posts.
Its Release
Gides is in the testing stages of being officially released and above are the reasons to consider joining Gides. Many digital marketers want to stay ahead on web tools available.  If you are in that fold, Gides will let you connect globally and provides a solid way of sharing your content. Right now the only way to gain access is to request it, however, it is one to watch and consider as we look ahead into 2021 and watch its growth.