3 Great Contact Form Options for Your WordPress Website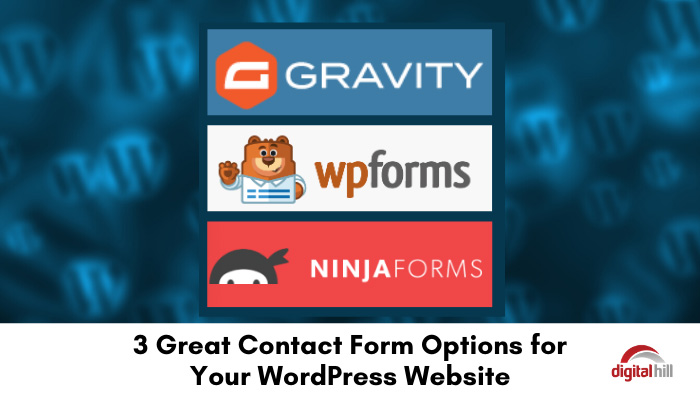 Having a way for website visitors to contact you is critical. Phone numbers and a live chat box at the bottom of your website are undoubtedly incredible customer support solutions. However, you should provide your site visitors with multiple avenues to get in touch with your company. Your customers might be too busy to sit on their phones or PCs, chatting back and forth with your Virtual Assistant. Furthermore, this explains why emails are still a relevant, convenient, and reasonable way of communicating and a good option for most businesses.
Emails allow prospective customers to send their messages quickly and respond at their own convenience. Contact forms make it easy to direct these emails to appropriate departments for a satisfactory and quick response. Adding these forms to your website is very easy, thanks to contact form plugins. Below are three great contact form options you should consider using on your WordPress website.
1. Gravity Forms
Gravity Forms remains one of the most popular and top form plugins for WordPress websites. It is our favorite and preferred tool. The plugins' advanced features enable website owners to design WordPress forms in real-time with conditional logic that hides or shows form fields, pages, sections and submit buttons depending on user selection.
Similarly, as with other great plugins, contact forms can be created using a simple drag-and-drop system, featuring dozens of standard, advanced and unique fields for posts. The functionality of this plugin depends on the subscription package. It can be used for a contact form, job application forms, donation forms, warranty registration form, lead generation forms, and more.
Pros
Dozens of add-ons
Visual editor for building forms in real-time
Users can save forms and continue later
All subscriptions include conditional formatting
Cons
Very limited free version
2. WPForms
WPForms is an easy to use, powerful contact form plugin designed to be used by even the most novice website owners. It is feature-rich yet delivers a nice intuitive user interface. The plugin works with a simple drag-and-drop, which makes developing new forms quick and responsive. WPForms also includes access to several pre-built form templates that speed up contact form creation.
The plugin easily integrates with diverse email service providers and configures to order payments and collect bookings. It features several add-ons, including one that allows readers to submit their own content. WPForms also implements advanced honeypot and CAPTCHA techniques that detect spam for you. Additionally, it allows the building of multiple contact forms.
The free version of WPForms has several features that facilitate building an effective contact form. However, you can opt in to premium plans to access advanced capabilities.
Pros
Several pre-built form templates
Easy drag and drop interface
Geo-location enabled
User friendly
Cons
Free version is very basic and lacks complex features such as MailChimp integration.
A payment option such as PayPal integration is only available at the paid level.
3. Ninja Forms
Ninja Forms is another popular tool that allows users to customize their contact forms using various add-ons. With over a million downloads, this plugin enables users to create contact forms from blank templates or customize a pre-designed template.
The free version of this tool has impressive fields that other plugins often charge for. There are also anti-spam options, the ability to store submissions, and importing and exporting form features.
Pros
Premium features in the free version
Add On features available with Free Version – just add what you need
No usage restriction on the agency plan
Reliable plugin
Cons
Restrictions on personal license use
Bottom Line
Contact forms provide users with a friendly and easy way to make contact with your business without leaving your website. Finding the best tool for your website can be daunting, with thousands of contact form plugins available on the market. Our recommendation is Gravity Forms, with their intuitive plugin and add-on features allowing you to customize the plugin for you and your business to serve a wide variety of needs.