6 Benefits of Using Gravity Forms on Your WordPress Website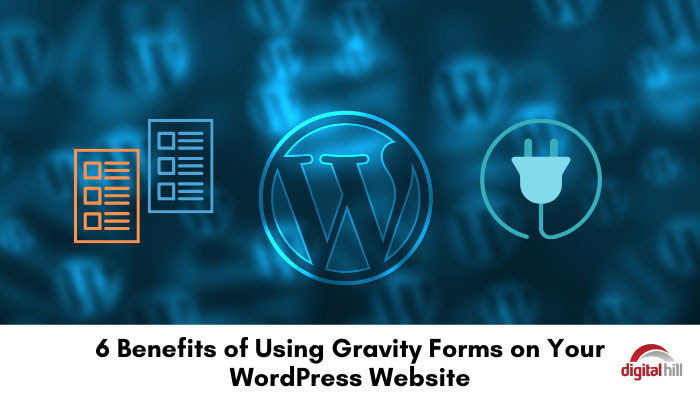 Gravity Forms is a WordPress plugin that primarily allows you to create flexible forms to use on a web page. Beyond just simple forms, Gravity Forms also allows you to create significantly more advanced forms with features for saving, adding logic e-commerce and much more. The licenses for this plugin are affordable as they are divided into three categories- the Basic License, the Pro License, and the Elite License. In addition, Gravity Forms is easy to configure, mobile-optimized, and has unlimited features.
6 of the Best Benefits of Using Gravity Forms Include:
1. Customization
Gravity Forms offers users an impressive level of customization. You can edit almost every part of the form. This allows you to create a form that's completely unique to your site. You can override the default Gravity Form styles by using CSS class names.
You can also customize how data is formatted. For example, you can change how date fields are displayed from dd/mm/yyyy to mm/dd/yyyy. This means that Gravity Forms can be easily used worldwide.
2. Advanced features
The increase of bots has always been a problem for websites, which is why most have captcha fields. These captcha forms are annoying to fill even for us. It takes too much time trying to decipher if it's a letter or a number.
Gravity Forms added an extra feature to its arsenal that helps identify the bots. The feature- Anti-Spam Honeypot- is an invisible solution that uses Javascript to hide an additional field. Your typical users won't fill this field as it's not visible to them. However, since bots don't run Javascript, they will view the additional field and fill it. Any form that has the field filled is flagged as spam.
The plugin also has features such as the multi-page option, which helps avoid form fatigue by breaking up the form. There is also the save & continue feature, which makes it easy to leave the form and return later to finish filling it at a later time. However, the user will need to create an account to access the save & continue feature.
3. Ease of use
Gravity Forms makes it easy to create forms thanks to its intuitive interface. Even a novice can get it right in several minutes. Most clients who want forms on their sites just aren't interested in learning code. Thanks to Gravity Forms, they don't have to as they only need to select the Gravity icon and insert their preferred form.
4. Professional Job Application forms
A key need for most businesses is the ability to allow potential hires to fill out an online application. With Gravity Forms, creating a secure, extensive online application is totally possible.
Fortunately, you can create professional-level forms with Gravity Forms easily. It creates detailed field options to create customized forms that request additional information such as listing their past job history and the preferred contact method. These professional-level contact forms build trust between the parties and help your HR team more quickly have job applicant data available.
5. Adding style to your forms
Creating forms isn't just collecting data; it also involves creating forms that appear professional and elegant. Gravity Forms ensures that your forms are neat instead of cluttered. It also allows you to create different types of forms ranging from simple to advanced forms. The ability to add style to your forms allows it to look like a natural part of your website.
6. Secure
Hackers are always on the lookout for vulnerabilities in web forms, which they use to infect, create hidden pages, and infect other websites. Therefore, site owners should improve their security to convince visitors to submit data to their sites. This is why you need to use form builders such as Gravity Forms. It comes with many security features such as required login, user permissions, automatic updates, and anti-spam protection. The plugin also allows you to limit certain features to logged-in users only.
Wrap-up on the benefits of using Gravity Forms
Gravity Forms has many benefits, from the free level and up. The pro and elite levels are worth paying for. Especially, if you use forms regularly or need more advanced forms. Gravity Forms offers so many customization options so you can have a unique form for each of your web needs. One subscription allows you to create unlimited forms for your website. It is also simple to use and has impressive security measures. Contact us to get started today and start increasing visitor engagement on your website.