5 Long-Term Post-Pandemic Marketing Strategies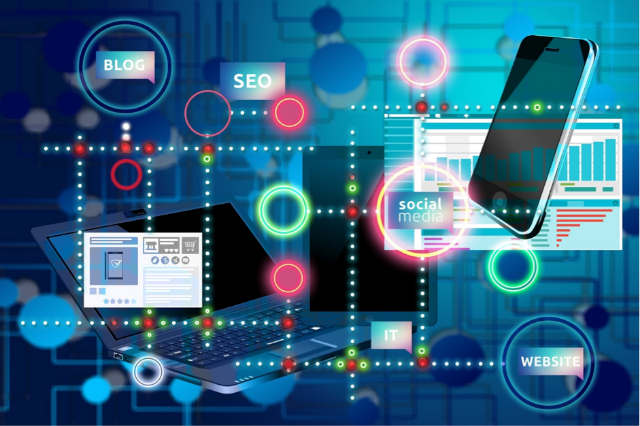 The recent COVID-19 pandemic claimed thousands of lives across the globe and crippled the world economy. Many small to large businesses struggled to keep up with the drastic change in the economic landscape. Only those businesses and industries survived who truly understood the potential of "going digital." It brought the need to think outside the box and develop a dynamic marketing strategy that worked well with all the pandemic restrictions. Since the entire marketing concept has reconceptualized because of the pandemic, we are here to give you the top marketing takeaways that will benefit you long-term post-pandemic.
Put your business online:
Businesses that relied exclusively on in-person or physical services had to take a nasty blow during the pandemic. Fortunately, those affected the most during the initial stages of the pandemic quickly realized that without an online presence, they wouldn't survive. After shifting their business online, many companies not only found hope for survival but another opportunity to increase profits. Marketing your product online through content and digital platforms boosts your reach exponentially. You may be reaching a couple of million people through traditional advertising. However, digital presence can give you a reach over billions.
Although, many people consider making a simple website as their big step towards digitalization. You need to generate organic traffic through valuable content such as blogs, guest posts, social media posts, etc. Some successful businesses even look for various ways to make an ebook to generate more traffic by targeting online readers. Remember, if you aren't looking into ebooks as a way to enhance your online market, you may be missing out on reaching an $8.6 billion industry.
Improve the experience of existing clients:
Most of your pre-pandemic marketing strategies may not appeal to many consumers today. The reason is that most people's spending power has taken a big cut due to the pandemic. They might not respond to any of your previous marketing stunts like before. So, you need to rethink your marketing strategy and start focusing more on keeping your existing customers while working on your online presence. Keeping your existing customers intact may take a big chunk from your cash flow, but it will benefit you in the long run.
Make the content for your marketing strategy a bit more customer-center rather than product-center. Therefore, try offering some discount or benefit to your loyal customers. Make them feel that you are there for them. You can even refund your client's prepaid or auto-pay memberships during the lockdown. This is a great way to show your concern in these tough financial times.
Reevaluate your communication strategy:
With consumers spending more time online now than ever, following a single form of online communication for your business is a smart move. You need to plaster your products and services on platforms that the people are using the most – social media! When an average person spends more time on Facebook and Instagram than any other communication platform, sending out just newsletters is a poor marketing strategy. It will help if you communicate with your consumer in a way they like through engaging posts, videos, live sessions, SMS, etc. One of the more popular strategies businesses are adopting for marketing is partnering up with influencers, celebrities, and Youtubers. They then spread the word and directly communicate with the audience. These influencers have millions of followers. So, you can understand how beneficial that will be for you in a world where everyone is on their phone.
Another strategy is applying off-page SEO, which is really beneficial since it informs SERPs of the value and importance of your website, and helps to gain an audience. Thus, you should conduct quality link building in order to boost your brand awareness, Google ranking, and revenue, as the wrong link building will get your website penalized.
Go for paid online advertising:
Paid advertising is the holy grail for marketers and businesses. This is because it gives your products and services an extra boost. While there is no problem generating organic traffic through marketing content and other tactics, a paid advertisement can significantly increase your chances of bringing in leads. The requirement for PPC ads in many industries has gone through the roof since the pandemic. People can't avoid using social media while stuck at home. So, it's likely they will come across an ad or two that they will check out. So, start investing in paid advertisements such as Facebook and YouTube ads because their data collection is so meticulous. You can put up ads based on the user's location, interest, gender, and even age.
Put up exclusive offers and discounts:
As mentioned before, your post-pandemic marketing strategy should be more customer-centric than about your product and services. You have to do everything to keep the audience happy and engaged. This means only one thing, discounts, and offers. There is nothing buyers love more than a flash sale or discounts on their favorite products. Advertise exclusive offers and sales promotions on various social media platforms to target existing and new consumers. It would be best to show the audience that you understand the hardships the pandemic has caused Hence you are providing them with cheaper products. You can send out discount codes via SMS or email to your loyal customers. At the same time, you can also arrange online competitions or interactive sessions for public engagement.
Conclusion:
The need of the hour in the business world is to understand the shifting demands of the consumers. The pandemic has limited people's buying power. Therefore, leaving a challenging task for industries to recapture their market. If you want to survive the pandemic and yield long-term benefits, then you have to consider taking your business online. You must use every possible social media platform to enhance your reach. You should also reconsider your communication strategy. Try focusing on bringing leads through effective digital marketing strategies.