5 Social Media Marketing Strategies for 2021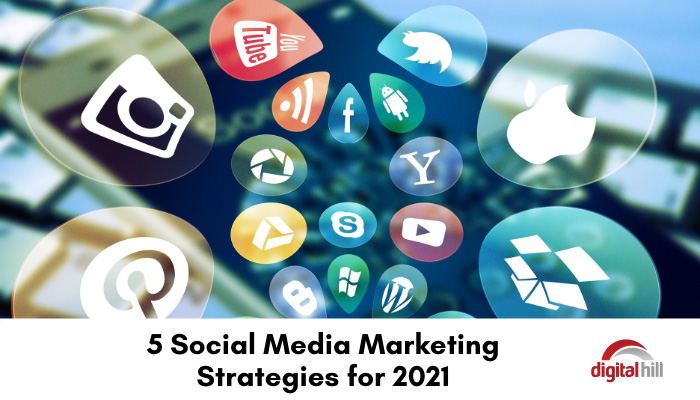 Over time, social media has proven to be an effective platform for digital marketing. However, with the constantly changing trends, digital marketers should transform their social media marketing initiatives to keep customers informed. The approaching new year is the perfect time to renew strategies to match the latest trends. That said, below are the anticipated social media marketing strategies for 2021.
1. Set Specific Social Media Marketing Goals
With approximately 73 percent of digital marketers believing in the effectiveness of social media marketing, setting specific social media goals is important as a strategy. Unlike before, where marketers had general digital marketing goals, brands should separate social media marketing from other digital marketing strategies. EarthWeb's review of TokUpgrade shows how growth services can help with these goals. Social media marketing goals should be evaluated monthly. Changes can then be made depending on customer behavior, industry type, competitors, and prevailing customer engagements.
2. Use Contests to Increase Awareness
If you have used social media before, you are not new to social media contests. Rolling out an effective social media contest can help you with more than just increasing your follower count. Contests are best used to promote a new product, and to attract potential customers' interest in products. The ideal way to use contests is by collaborating with a social media influencer. Your contests should focus on providing your customers value while ensuring that you remain on their radar.
Contests can help increase brand awareness, grow email lists, drive traffic, educate prospects, increase sales, and increase engagement with your audience. The best thing is that you don't have to sell physical products to run a contest. For instance, if you offer consultancy services, your followers could win free access to a mini-course or a consultation call.
3. Use Videos to Create Deep Connections
The power of video on social media platforms is undeniable. The surge in the use of Instagram Live, TikTok, Facebook Live, and YouTube is enough evidence that videos are still blowing up social media marketing. Several statistics show that visuals drive more engagement, as they provide an avenue to directly interact with social media users. Additionally, they are a good option for brands looking to get immediate feedback.
4. Incorporate Augmented Reality to Boost Sales
Expectations are that augmented reality (AR) is another social media marketing strategy shaping the future of shopping. Even with eCommerce sites and online stores, many people prefer visiting physical stores to see and touch the products they intend to purchase. This helps to explain the decline in retail trade by 20 percent during the Covid-19 pandemic.
However, with the introduction of augmented reality, brick and mortar stores can transform their stores to enable people to see, try, and purchase their products online. Facebook and Instagram are among the first social media platforms to launch AR filters. However, these currently include only cosmetic and eyewear products.
5. Take Advantage of Micro-Influencers
Despite predictions that influencer marketing has reached its epitome, influencer engagement is rising and expected to grow even more over the next year. Collaborating with influencers is an easy way to remain relevant and be discovered by a new audience. However, small brands that can't afford mega influencers should use nano, micro, and mid-tier influencers in their niche. Interestingly, such influencers have a closer and more genuine relationship with their followers, often making them more effective.
Bonus
A bonus tip is to encourage happy customers to leave reviews for you. Try doing this on Facebook as well as outside of social on your Google Business Page and services like Yelp.  Reviews go a long way in establishing credibility and trust for your company.  It usually takes an ask or a method to get users to find and post a review.  Contact our team to discuss how we can set you up with a tool to make this happen easily.
Bottom Line
Without a doubt, social media has proven a valuable digital marketing channel for brands looking to expand their reach and convert more sales. With its agile approach, digital marketers should watch out for various social media trends to ensure that they take advantage of all arising opportunities. However, you should be creative and avoid blindly following trends. Most customers like to feel a genuine connection to brands online. As such, invest in what you feel aligns with your brand.