6 Best Zoom Alternatives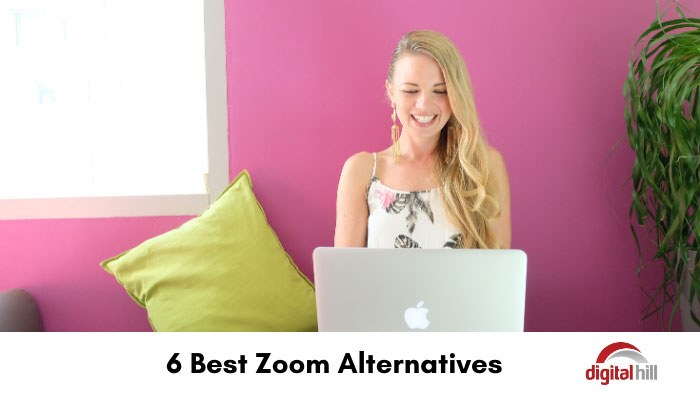 Ever since the COVID-19 pandemic appeared, states and local governments continue to implement stay-at-home orders. Companies too have asked their employees to work remotely. Because of this shift, video conferencing has become a must-have. In fact, March 2020 saw the numbers of Zoom and alternative apps usage and downloads surge up. Zoom is one of the best and most popular video conferencing platforms. However, there are alternatives you can consider. It's important to consider looking for ideal Zoom alternatives.
Zoom Alternatives Options to Consider
1. Zoho Meeting
If you're looking for an excellent tool for hosting online meetings and webinars, then look no further.
Zoho Meeting gives you all the benefits, from sharing the screen with meeting participants, and recording chats, to muting participants' microphones. Though the plans of webinars and online meetings differ significantly, you can opt for free plans and enjoy the standard features similar to Zoom.
If you consider the competitive pricing among other factors, Zoho Meeting can be an ideal option. Additionally, you don't have to install an app. You and your employees can join the web conference and calls via an internet browser.
2. Microsoft Teams
Microsoft launched this great Zoom alternative to replace the Skype business tool.
Besides the benefits of chatting with teammates and making video calls on a single tool, Microsoft Teams also allows you to access documents from Office 365.
But that's not all. Each plan has added features like hosting up to 10,000 people in a team meeting, OneDrive cloud storage, SharePoint, just to name a few. Right now Microsoft is offering a free version with limited features.
3. GoToMeeting
GoToMeeting is also similar to Zoom. As a host, you can invite from 150 to as many as 3000 people.
Here's the best part. The platform allows you to host video conferences on mobile devices or PC. GoToMeeting has three plans at different pricing tiers with varying features such as the number of participants and recording features.
4. Google Hangouts Meet
Google Hangouts Meet is integrated with its G-Suite feature, and this makes it one of the easiest Zoom alternatives. You can invite people to join the meeting from your calendar or even via an email invite. Super easy, right?
You can communicate with up to 250 people depending on your plan. Apart from the video conferencing service, there's instant messaging, Google Drive storage space, and more.
As well as holding an online meeting, you can record and save the meeting on Drive. Again, the software also allows you access to Sheets, Calendar Docs, and other business services.
5. BlueJeans
Happy news for small and medium businesses, BlueJeans is a top Zoom replacement that supports video conferencing up to 100 people.
Even if you want to chat privately (or share secrets), it's possible. What's more, you can record the session for people who miss out on the meeting to catch up later. Additionally, you can enjoy the trial version before upgrading to a paid plan.
6. Cisco WebEx
For a meeting that accommodates up to 50 participants for a 40 minutes session at most, Cisco WebEx could be a perfect free Zoom alternative.
If you need more than that, upgrading to one of the paid plans is the way to go. You'll also enjoy customizable meeting links and cloud storage for enhanced functionality. Moreover, benefits like recording meetings, screen sharing, and HD video options are things you can't ignore.
Pick Your Perfect Zoom Alternative!
While Zoom is one of the most popular platforms, it's not the only one of its kind. Without a doubt, you'll find the most suitable tool for video conferencing in the list above. Choose one that matches your business needs, and suits your budget.