6 Myths (and the Truth!) About SEO in 2016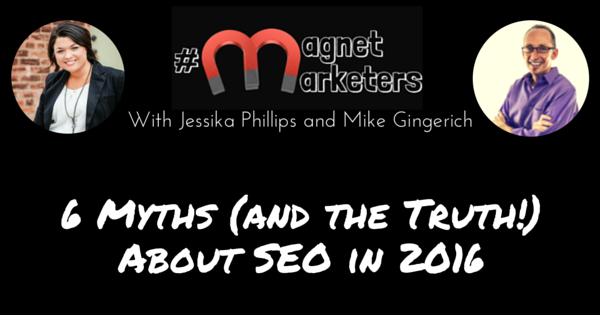 Search engine optimization has drastically evolved over the past few years – transitioning from what was once a simple strategy to a sophisticated method of marketing. This evolutionary process has brought a bit of confusion regarding the true rules of SEO. Don't be confused – I'm here to clear the air around this powerful marketing mechanism.
Myth #1: Local Directories
For the best results, you want to list your business on all of the local online directories, correct? Surprisingly, the answer is no. This is perhaps one of the biggest misconceptions regarding modern day SEO. Taking advantage of services like Yext or Moz Local will help to ensure that your business is listed only in the most important online directories – achieving much greater results.
Myth #2: Content Doesn't Matter
As SEO continues to evolve, people have directed their focus to the back end of business websites, emphasizing the need to focus more on format vs. content. While meta descriptions, alt tags and H1 and H2 tags are all very important, content is still the most efficient way to improve your SEO. According to QuickSprout, if a post is greater than 1,500 words (on average) it receives 68.1% more tweets and 22.6% more Facebook likes than a post that is under 1,500 words. As you can see, content is still king in the world of SEO.
Myth #3: Meta Descriptions and Alt Tags
In regards to meta descriptions and alt tags, think quality over quantity. The notion that web pages need a lot of metadata is absurd. While these items are valuable, think quality over quantity. Making sure your back-end elements are clean and tight will secure you far greater results.
Myth #4: Social Media Doesn't Matter
Somewhere along the line, someone got it into their head that social media doesn't play into SEO. This is a myth! The impact that social media has on SEO is astonishing – the content, social shares, impressions, and engagement are, in fact, what give your page authority.
Myth #5: Keyword Stuffing
Yes, you need a keyword – no, you don't need to repeat it over and over again. In fact, Google has zeroed in on repetition and may penalize your site for keyword stuffing. For the best results, your keyword should show up in an H1 (usually your title); in an H2 or H3 and be present in the first paragraph.
Myth #6: Responsive Design Doesn't Matter
It is critical for consumers to have a positive experience on your website, regardless of what size screen they are using. Responsive design ensures that wherever people find your information, they can read and access it easily.
In fact, if someone is searching on their mobile device for your product or service and your site is not mobile, Google will leave your site out of the search completely. For Google to serve up your site on a mobile search, your site must be responsive. And Google favors responsive sites over mobile sites.
Have more questions? Of course you do, this is a complicated and detailed subject! Add your questions to the comments below and I'll be sure to answer them.
Here's the full blab with Jessica and me. Enjoy!
Remember to join Jessica and me live on Blab every Tuesday afternoon at 4pm for Magnet Marketer.