6 Reasons Online Reviews are Important for Your Business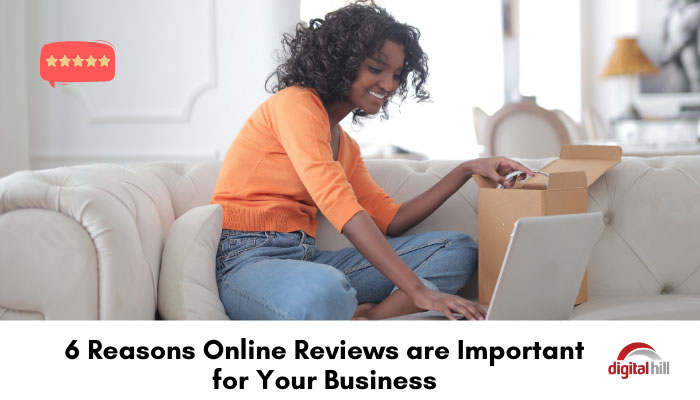 The surge in internet access has dramatically changed how people currently shop. Most people prefer shopping and searching for items online. However, online shoppers don't make purchases blindly. The majority will first read online reviews (Google Reviews, Facebook Reviews, Yelp, BBB, etc.) about the business and nature of services offered. 90 percent of online shoppers read reviews before reaching out to a business. Out of the 90%, 94% agree that negative reviews convince them not to purchase from the business.
Based on this, regardless of your business's nature, establishing a positive online presence offers several benefits. Below are 6 reasons why you should encourage your customers to leave a review.
It Boosts Sales
Social proof is one of the major contributors that drives purchases for a business. Since online reviews are credible social proof, you will likely see increased sales, even from those who have not purchased before. According to Bazaar Voice The Conversation Index, online reviews lead to an 18% increase in sales. Similarly, most shoppers agree that positive online reviews affect their purchase decision.
Increases Local Search Engine Rankings
Online customer reviews also play an important role in improving your businesses' organic rankings on various search engines. Encouraging customer reviews adds more credibility to your business, and new reviews increase the unique content on your website. An increase in unique and relevant content increases the chances of attracting high rankings from search engines.
Search engines interpret reviews written in micro-format on your website as "rich answers," which prompts them to place above other normal search and ranking results. Generally, online reviews enhance website visibility and increase traffic to your website.
Improves Off-Site Rankings
A review on an external website is also beneficial and adds credibility to your business. This is because search engine ranking algorithms also include data gathered from third-party websites and platforms. For example, TripAdvisor for travel content, Yelp for restaurant reviews, and CrowdReviews that rank technology products based on verified user reviews. Google and other search engines rate businesses based on the reviews of their products and services.
Increases Trust
Your business can easily build trust and credibility from positive online reviews. As mentioned, most online customers read reviews before making purchases or booking services. Often customers distrust websites with negative ratings and less than a four stars rating. That said, new businesses should encourage their first customers to leave positive reviews. Otherwise, it becomes challenging to compete with already established businesses.
Helps Understand Customers
Online reviews provide an opportunity for businesses to understand their customers. Previous customers often voice their experiences and opinions through reviews. Through this, it becomes easy to analyze the market and make improvements. Then you can easily identify the strengths and weaknesses of your business, which is beneficial for updating and improving your customer service.
Increases Conversions
Online shoppers search for information before making a purchase. Therefore, the more honest online reviews you have, the higher the conversion rate. Obviously, 5-star reviews and positive comments may be difficult to achieve in massive numbers. However, embrace the mix of positive and negative reviews, provided the negative do not overwhelm the positive. Be sure to RESPOND to all reviews to show you care and are active!
Bottom Line
Online shoppers rely heavily on reviews to make purchases. As such, brands should take advantage of reviews as they significantly influence the brand's reputation. Additionally, with extensive social media use, online reviews can easily make or break your business. Therefore, small and medium-sized businesses should gather reviews from their previous customers. It is through this that they can grow, increase brand awareness and sales. Online reviews are an undisputed marketing opportunity.
We Can Help
What if we told you we have software that helps you gain more positive reviews easily and helps negative reviews get "caught" before they are posted? Well, we do! Call to talk to one of our Account Managers about our Online Review Service today.