7 Ways Manufacturers Can Use Instagram To Grow Brand Awareness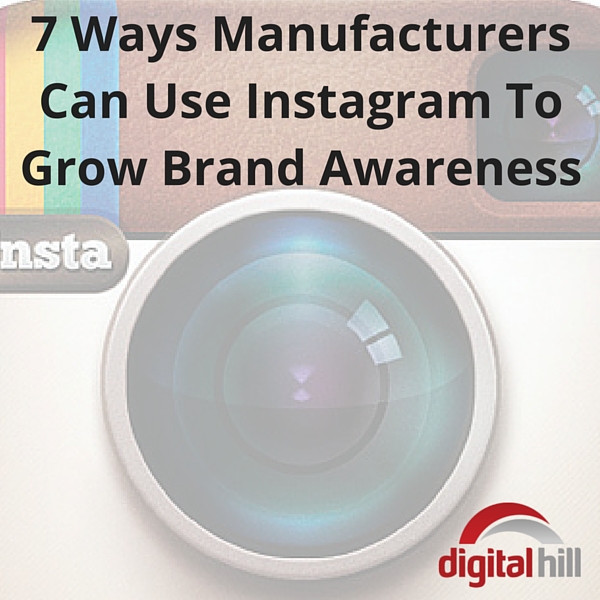 Manufacturers can and should value social media marketing as a unique way to build brand awareness, grow revenue and reach new markets and audiences.
A recent study of B2B marketing by Brightcove shows that 87% of B2B brands and manufacturers engage in some form of social media marketing.  It works…if you do it right.
New platforms, like Instagram, offer an opportunity for savvy marketers to reach new audiences. Instagram is a free mobile app focused on photos and images. It has grown quickly, is the fastest growing social media platform of 2015, and has over 100 million users.
Instagram was acquired by Facebook in April 2012 and now allows marketers to use the same in-depth targeting for Ads that Facebook has.
Instagram is an up-and-coming platform not to be ignored. While originally a place largely for teens and young adults, the demographic growth of 30-50-year-old adults has been outstanding.
Your business should, at least, take the leap and start a few tests to explore the platform, the targeting available, and posting some brand messages to grow your audience. You could even consider a service or free Instagram bot to help boost your business profile.
To help you take the first step, here are 7 ways to grow brand awareness with Instagram:
Gain customer feedback during product development. Instagram serves well when used as a two-way conversation, as you can share your company's content through pictures and 15-second videos and also open the opportunity to hear from your customers via comments. Post a sneak peek of new products, design changes, and company news to get initial reactions and feedback that can help guide decisions.
Show off equipment and Processes that play a role in creating your products. Giving a behind the scenes look at creation, testing and production of new products helps to gain awareness of practices and insights to keep your company ahead of the curve. Take snapshots of the product during main points in the manufacturing process. People like to see the process!
Go behind the Production. Share a sneak peek of some of the glamorous and funny aspects of product creation – during photo shoots for ads or catalogs, when filming a commercial, or getting ready for a media interview. Basically, take photos and videos of the process of your photo and video shoots. These are moments that limited numbers of people get to experience, so think of it as an exclusive backstage pass!
Highlight what your products can do. Sometimes advertisements can only show so many product features, and prospective clients imagination can only take it so much farther. Use Instagram to show off the more unique and niche uses of your products to generate buzz and demand. This opens up a great opportunity for user-generated content as well – ask your customers to post photos or videos on Instagram showing off creative and innovative uses of your products.
Show off your team and office. The faces behind your company and products help to bring a personalized take, which people can relate to. Post photos that offer a glimpse into a day-in-the-life – during meetings, social events, or highlighting employees. This offers a bonus of great exposure for the company culture to help with recruiting.
Leverage established Hashtag trends. Users are engaging on Instagram, with certain topics trending up and down, and the very best ones endure. Hashtags like #photooftheday, #selfie and #instalike are extremely popular, and joining in on the craze can get you noticed and shared.
Hook onto popular themes. Instagram has popular themed hashtags that you should consider.
#TBT (or #throwbackthursday) would let you reminisce about your company's past and how far you've come.
#followfriday lets you highlight your favorite companies and individuals to shout out to your followers, which will make it more likely you'll get highlighted too.
#motivationalmonday lets you focus on positivity, share thoughts that resonate with your company's mission.
That's a wrap on 7 ways manufacturers can use Instagram for their products and brand.  Feel free to chat with one of our digital marketing consultants if you need expert knowledge with moving forward.
Also, be sure to check out the Instagram blog. Instagram posts lots of inspiration and ideas to help spur your creativity for uses there too!