8 Benefits of Jetpack for Your WordPress Website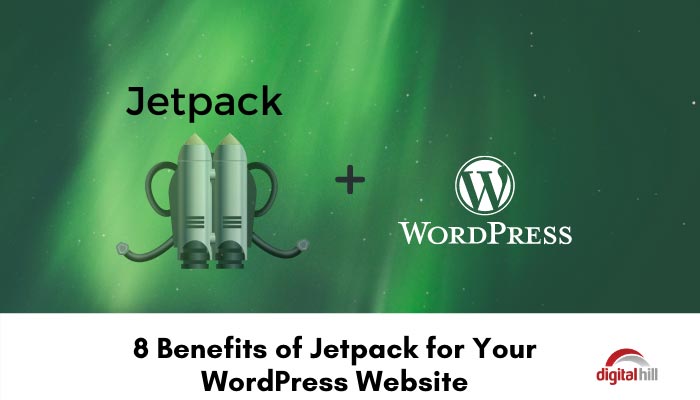 WordPress is a popular website builder for many reasons, including its ability to encapsulate several features with a user-friendly environment. It features thousands of plugins, which make each website unique and overly functional. Among the leading WordPress plugins is Jetpack, with valuable features that improve website speed, functionality, reach, and security, among other benefits. Below are some reasons to consider using Jetpack on your WordPress site.
1. Speeds Up Image Load Time
Speeding up your website's loading time is beneficial for two reasons. First, it has a positive impact on website SEO and also reduces bounce rates. Thereby keeping visitors engaged with your content. Website speed can significantly affect the success of your website. With the help of Jetpacks Photon feature, the plugin serves images through a Content Delivery Network. While the technical specifics of this feature are quite complicated, the end result is simply a fast image loading time.
2. Prevents your site from Brute Force Attacks
Interestingly, WordPress websites are attacked 25% more than websites from other CMS. Therefore, protecting your WordPress site from various security threats, especially Brute Force attacks, should be a priority for all site owners. Fortunately, you can be sure of your security with Jetpacks' protection features. Firstly, it bolsters the website's security status by rapidly identifying and blocking access from malicious IPs. Then it also tracks and blocks repeated failed attempt logins.
3. Provides Traffic Insights
Monitoring the number of your website visitors is exhilarating. However, traffic statistics should help identify the sources of traffic and best-performing content on your website. To learn from visitor patterns, Jetpacks' inbuilt traffic stats feature is easily visible. Thereby allowing you to directly monitor the stats from your WordPress dashboard.
While these statistics don't have the same level of details and information as data from Google Analytics, they are convenient.
4. Simplifies Management of Multiple Websites
Running more than one WordPress website is quite tasking, especially with many plugins that require constant updates. To assist with this, Jetpacks' Manage feature enables multi-website owners to run their sites from a single interface. Once you connect your websites, you can publish posts, respond to comments, update plugins, and much more for your websites. However, this feature might not be beneficial for those who manage multiple client WordPress sites.
5. Monitors Website Downtime
Website downtime is the period in which your website is in an inaccessible state. While site downtime is inevitable, working with the best web hosting company can reduce such situations. Regardless, it is important to keep an eye on your website, even when in an inaccessible state. For this, Jetpacks' monitor feature keeps track of your site downtime. It also sends reports and email alerts that help in resolving the issue.
6. Automates Social Sharing of Content
Successful digital marketing involves using social media platforms, including Twitter, Facebook, Instagram, and LinkedIn, among others. Fortunately, Jetpacks' publicize feature can automate this process. Simply connect your site with social networks, and Jetpack will automatically publish new posts.
7. Displays Related Posts
Showing website visitors related content encourages them to continue reading and keeps them engaged. Therefore, this is possible with the plugins' Related Posts feature. The plugin automatically identifies related content and provides suggestions below the blog posts.
8. Publish Posts Via Email
You don't have to be at your desk to upload new posts to your website. With Jetpacks' Posts module, you can publish articles from a remote location with reliable internet through email. This highly benefits travel bloggers who want to share their traveling experiences in real-time.
Benefits of Jetpack Bottom Line
With more than 5 million active downloads, Jetpack is an all-around WordPress plugin that suits both beginners and advanced users. It is backed by the mother company, WordPress, which makes it easy to use. Users also enjoy the services of professional support teams whenever they need. It can be a strong plugin that covers a number of needs.