8 Tips for High Engagement Social Media Videos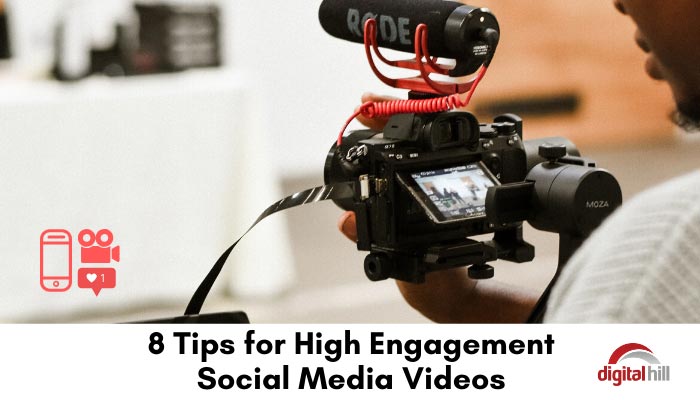 Content marketing has been the foundation of inbound marketing for years now. However, it was only recently that video marketing became acknowledged as the most effective form of content marketing. While this doesn't mean that you should give up written blogs, it does mean that you should be putting some of your resources into creating video content, especially when it comes to your social media strategy.
Not only is video content easier and cheaper to produce than ever before, but it also has five times the engagement than other content posted on social media. In fact, four of the six top channels that consumers use to watch video content are social media channels. With that in mind, the following are some tips on how to create effective, high-quality video content:
Tips for High-Quality Social Media Videos
1. Know who your audience is
Different people engage with video content in different ways. For example, younger audiences have shorter attention spans and are trained to consume flashy, fast editing. However, older audiences may not be able to keep up with such content and may prefer a slower pace – a pace that younger audiences may find immediately boring. Figure out who your audience is before you create your video content and tailor it to them. Use a video speed controller to perfectly match the pace of your video to your target audience.
2. Establish a goal for each video
What do you want your video to achieve? This should be the main goal of creating the video. If you don't have a goal outlined, you might easily veer off track. Your videos should focus on one single topic so that you can keep viewers focused on whatever your goal is. For example, if you begin talking about the history of your company in a video that's meant to promote an upcoming sale, viewers won't know what the point of your video is. Use individual videos for each goal, you can then easily build a portfolio of promotional videos.
3. Invest in quality productions
Although you can produce video content from your smartphone, you should be investing in higher quality productions. A high-quality video will reflect on the professionalism of your company. This means that you might want to hire a videographer to produce your video content. Consider using a professional (or at least a prosumer) camera. Lighting your subjects will make all the difference in the world too. Finally, the sound is arguably the most important element. Even if your video isn't good, viewers can still understand the message if you have good sound. If you have bad sound, it won't matter how good the rest of your video is, viewers will not continue to watch if they can't hear it. You might also want to invest in a good video maker to ensure that all the different elements of the video fit in well together.
4. Engage viewer emotions
To keep viewers interested and engaged, you need to target their emotions. This doesn't necessarily mean your video has to be sad or funny, but it does mean that whoever is on camera shouldn't be afraid to show some personality. Using storytelling to deliver your message will also make a huge difference (instead of just having someone onscreen reading off information from a cue card). Adding personality to your videos can help with your brand awareness and authenticity as a company.
5. Create a variety of video content
Variety is the spice of life. There are all types of videos you can create, including demo videos, event videos, tutorials, interviews, explainer videos, animated videos, and more. If you are hiring a videographer, film a range of videos on the day to start your collection.
6. Keep them short
Few people will finish a video if it's longer than five minutes. This is especially true for mobile users. Not to mention that shorter videos are more shareable on social media. Try to keep your videos on the shorter side — under two minutes if possible. You can also utilize smaller snippets of videos for paid advertisements.
7. Optimize your video content for SEO
Don't forget to optimize your videos for SEO. You should be using keywords in the title and the description. Additionally, add links into the description as well.
8. End with calls-to-action
Always remind viewers what it is you want them to do at the end of the video, whether that is just to subscribe, like the video and comment or to go to your website. If you do not tell your audience where to go next, they will go somewhere else.
Final Thoughts
These are a number of tips that you should keep in mind in order to create effective video content for your social media marketing strategy. Continue to create and improve your social media videos until you understand your audience. Need a tool to help you edit and create videos? Consider our friends at Wave.Video.