A New Website Software Released: Vision Financial Marketing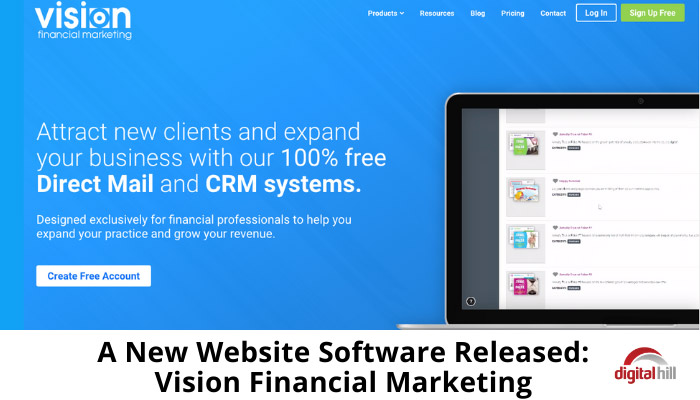 We are pleased to announce that Vision Financial Marketing (VFM) CRM and Marketing system has launched an important 2.0 update. Initially, a robust CRM system, the SAS software we develop and manage has now expanded to include an innovative direct mail marketing system along with a new public website.
What's New for VFM?
Essentially, the core VFM CRM product remains the same, only better – Financial advisors can expect easier access to the CRM features you need most, as the new upgrades to the system make it not only faster but also much more user-friendly.
The key addition is the direct mail marketing system that has been added and which blows away what others offer. The new platform is dynamic and clutter-free to deliver a truly professional experience enabling advisors to quickly choose from templates, customize, and schedule drip mail marketing postcards to their customer and prospect lists. Let's dive into the new additions in more detail below.
About the Direct Mail and CRM Services
Two vital solutions are available under the "Products" tab, Direct Mail –Drip Marketing and Customer Relationship Management (CRM) for financial advisors.
1. The Direct Mail Platform
Financial advisers depend on direct mail to build relationships and turn prospects into clients. The VFM direct mail platform is designed to make it easier to achieve these goals.
Among other things, the VFM direct mail service provides users with an expansive postcard library, so you don't have to worry about what to send. Users also benefit from easy contact and list management. You can quickly create lists, add or remove contacts, and schedule mail with precision.
Other features of the VFM direct mail platform include;
Pre-built targeted campaigns
Full postcard design customization
One-click scheduling, printing, and mailing
Save/edit your designs in progress
2.  The VFM CRM Platform
VFM's CRM, meanwhile, provides you with everything you need to build strong relationships with your clients and track every aspect of these relationships. The interface is easy to use, and automation features allow for quick and efficient business tracking.
The biggest benefits of the CRM platform, however, are the comprehensive client profiles and history. You can view client contact information, manage groups and tags, effortlessly add notes, and view emails sent to or received from your clients.
Additionally, you can;
Easily see your entire sales pipeline
Organize and manage all your accounts
Automate critical processes and workflows
Integrate with other technologies e.g., MailChimp
Coaching is available under the Elite Plan for beginners eager to make use of the CRM platform. Apart from this, you need to know the challenges of CRM to avoid any adverse impact. Among other things, trainees get hands-on coaching, monthly calls, and dedicated account management help.
Resources and Contact
To conclude, the Vision Financial Marketing platform comes with tons of resources on the site blog, including free eBooks, industry reports, live and recorded webinars, and training. Visit the new site and pass along this information to any financial advisors in your network who can schedule a 1-on-1 demo to help them understand the power of the system!