Best WordPress Plugins for GDPR and CCPA Compliance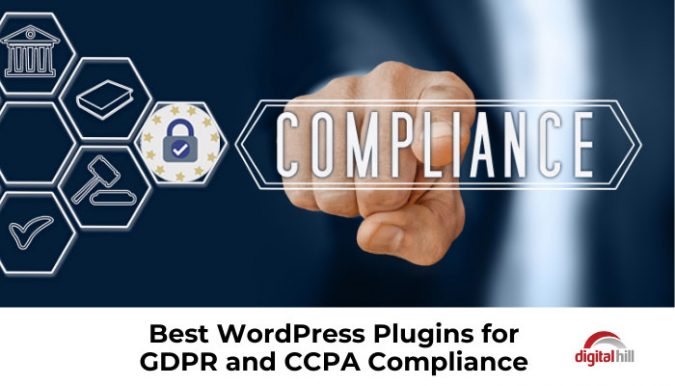 Privacy has become a fundamental requirement for digital commerce. As a result, every business that captures, stores, or processes consumer data is expected to comply with industry regulations. These regulations are in place to keep the data away from hackers and other cybercriminals. If your business does not comply, you risk hefty penalties and possible lawsuits.
Two cybersecurity privacy guidelines that are particularly critical for small businesses are the European Union (EU) General Data Protection Regulation (GDPR) and the California Consumer Privacy Act (CCPA). Failure to comply with these regulations can land you in trouble.
Top 5 WordPress Plugins for GDPR and CCPA
Fortunately, it's now very easy for WordPress bloggers and businesses to ensure GDPR and CCPA compliance. With a simple plugin, you can implement all GDPR and CCPA requirements to ensure complete user privacy and evade potential penalties and lawsuits. The following are the five best WordPress plugins to consider your WordPress store.
1. Cookie Notice for GDPR and CCPA
A plugin that works excellently for GDPR and CCPA compliance is Cookie Notice. It is easy to use and is designed to help you track visitor consent to your cookie policy. Cookie Notice's key features include;
Cookie auto-blocking in compliance with GDPR Art.7
Categorization of cookies in accordance with GDPR Art.32 requirements
A link to "Do Not Sell" as required under CCPA regulations Sec.1798.
Cookie Notice is also compliant with WPML for multilingual sites. Plus, as an added bonus it's completely free.
2. MonsterInsights Google Analytics Plugin for WordPress
Many people know MonsterInsights as a WordPress plugin that makes integrating Google Analytics into your website easy. It allows you to install a Google Analytics code that you can use to generate detailed analytics reports in real-time. However, you may not know that MonsterInsights also has an EU Compliance Addon. This allows you to automatically anonymize data to comply with GDPR requirements. The plugin is priced at $199 per annum and comes with page-level cookie notices.
3. CookieYes Plugin for WordPress
If you're looking for a plugin explicitly designed for GDPR and CCPA compliance, CookieYes is one of the best choices. It has more than one million active installations and, in addition to GDPR and CCPA, supports cookie compliance for LDPD of Brazil and CNIL of France. Furthermore, CookieYes sets cookie value to "null" by default. This ensures that cookies are stored only upon user request. We also love that it offers automatic cookie scanning and categorization. The basic version is free, but the premium option costs $49/year.
4. OptinMonster GDPR-Compliant Lead Gen Forms Plugin
You've likely used the OptinMonster lead generation form plugin if you've been on WordPress for a while. The plugin allows you to create high-value lead capture forms with little effort and at a low cost. Both of these qualities have made it very popular among the WordPress community. And, now, it comes with a GDPR-compliance functionality so you can capture forms without breaking GDPR or CCPA requirements. In addition, it provides several targeting options, including geo-location targeting. The basic version costs $14/year.
5. PopupSmart GDPR-Friendly Popup Forms and Cookie Notice
Finally, for businesses and marketers that depend on popup forms and cookie notices, PopupSmart allows you to use these marketing tools while ensuring 100% privacy compliance. You can create consent banners and cookie notice popups besides lead-gen forms without breaching GDPR and CCPA requirements. It even comes with several ready-made pop-ups and cookie consent templates for your convenience. The plugin seamlessly integrates with WordPress with one line of code that you can copy and paste with ease. It's completely free to use.
Summary
You can use several other plugins to ensure GDPR and CCPA compliance on WordPress, including WP GDPR Compliance, Complainz – the Privacy Suite for WordPress, and MOOVE GDPR Cookie Compliance. If you want your business to succeed, focusing on privacy will help. Especially as it is such a big concern for internet users nowadays. Make it simple, and stop breaching privacy requirements by using one of the plugins above.