Website Keys: If Your Website Doesn't Have This You're Missing Out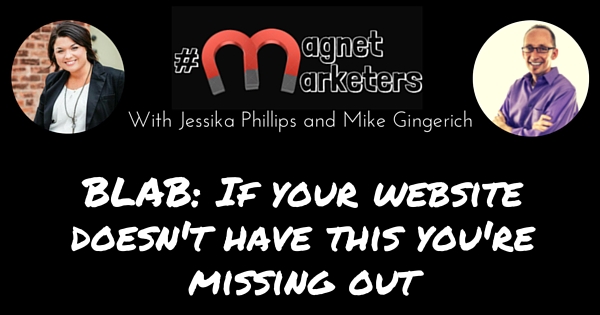 If your website doesn't have this, your missing out!
Each week on #MagnetMarketers we dive into a 30+ minute topic on digital marketing live via video on a service called Blab. This week we dove into website keys.  Here's the overview of the discussion presented by co-hosts Jessika Phillips and Mike Gingerich.
Website Content
No matter the size of your website, there are a few things it needs to expand its reach. An attractive website is a resource or a news outlet. Content is king, and you need to be able to supply people with something more than fodder.  You need to supply value resource-rich posts on your website. The search engines will gloss right over your site if you don't have the right content. When you create your website, content is the first thing to consider.
Website SEO
This is where search engine optimization, or SEO, comes into play. Naturally you want to boost the chances of people finding your website and its content, so you need to optimize what's on it. Search engines like Google and Bing are no longer looking for single keywords to direct people to your website. They want what is a called long tail keyword descriptive phrases, like searching for "how to sew", not "sew." Using keyword phrases in your content will show the search engines you can provide relevant content, and they'll serve up your site on the search engine.
Soft Lead Capture
Once you get them to your website, you want to keep them coming back for more. One way to do that is an RSS feed they can sign-up for to be alerted every time you add new content. Or collect their emails for a regular newsletter using iContact or MailChimp. You want to convert them from a visitor to a lead you can market to and eventually generate a sale!
Mobile Friendly Website
The next important thing to make sure people can use their smartphones and tablets  to view your website. Google began giving black marks to websites that were not mobile responsive and, soon after, Bing followed suit. On average, websites receive 50% mobile traffic. If your site doesn't allow them to navigate quickly, you're going to lose visitors very quickly. Mobile is overtaking desktop by leaps and bounds.
How will you determine which content is attracting the most people? A simple way to find this is to install Google Analytics to monitor exactly what they're viewing, how many times, and how long they are staying on your website.
Another important aspect to add is social icons for people to connect with you on Facebook, Twitter, and more.
Make sure your website isn't cluttered with design elements. Keep it to a minimum and organize the content in a way that flows. Break up the information into pieces so they don't feel overwhelmed with too much at once.
Keep in mind, 80 percent of the sales cycle is over before the customer has even spoken to a sales representative. What do you want them to know in advance?
Here's the full blab with Jessika and I. Enjoy!
Remember, you can join Jessika and I live on Blab every Tuesday afternoon at 4pm for Magnet Marketer Blab videocast online.