Comprehensive Event and Community Website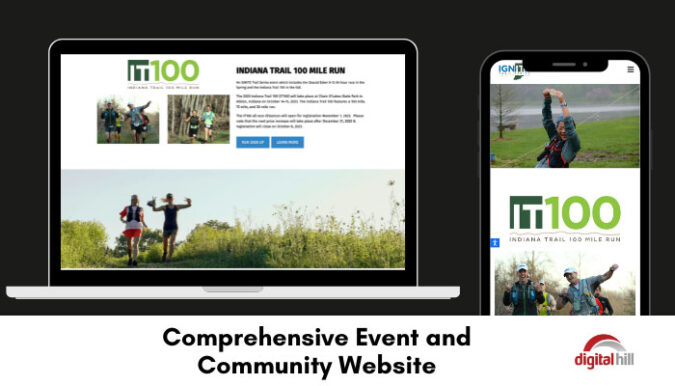 The Ignite Trail Series was created by a small group of ultra-distance runners to promote Chain O'Lakes State Park in Albion, Indiana. Almost ten years ago, in 2013, the first-ever Indiana Trail 100 was held with all proceeds going to Chain O'Lakes. As the world of ultra-running events expands and runners from around the world look to participate, having an easy-to-use website is crucial for the organization. Below we look at the key sections that this comprehensive event and community website uses to offer the best experience to users.
Split Events Section
The Ignite Trail Series hosts two events each year, these are the Glacial Esker 6-12-24 in Spring and the Indiana Trail 100 in Fall. With registration for both events opening in November of the year before the event, having dedicated registration pages is essential. Visitors to the website simply click on the event they would like to learn more about or register for. Each event page has all the details about the waitlist and changes to tickets. To sign up, website visitors click the clear CTA button, which takes them immediately to the registration and payment page. From there they can enter their details and pay for their race ticket.
Information and Details PDF Downloads
To help website visitors and race participants, the dedicated Race Info section includes a map download and a runners guidebook download. These are both in PDF format making it easy to view and download on desktop computers and mobile devices. By using WordPress to create the Ignite Trail Series website, these files are easy for the team to update. They simply switch out the old PDF for the new version in the backend, and the download link automatically updates. This backend feature helps busy organizations easily keep information up-to-date without needing a dedicated IT team.
Volunteer Section
As with any not-for-profit organization, Ignite Trail Series relies on volunteers to have events run smoothly. The Volunteer section of the website includes detailed descriptions of volunteer roles and information on how to apply. This is also where race participant pacers can apply for their bib and event package.
Race Results
One of the most important after-race details for an ultra-runner is seeing their time and place. The Ignite Trail Series website allows website visitors to easily see race results from the past nine years. Additionally, website visitors can search by name to see their time and place from each year they participated. This feature is perfect for runners looking to see how they have improved compared to the previous year.
Having a comprehensive event and community website allows Ignite Trail Series to continue to grow its events every year. This in turn allows them to raise more money to maintain and improve Chain O'Lakes park for tourists and locals alike. Using WordPress as a CMS allowed Digital Hill to create a professional, custom website that the Ignite Trail Series administrators can continue to maintain themselves. This is crucial for non-profit organizations as they often do not have the extra funds to pay for ongoing IT services.
If are looking for a modern, and easy-to-use website to collect donations or advertise events, contact Digital Hill today. Our team will work with you to design and create a custom website for your needs.