Creating an Eye-Catching, Informative and Functional Website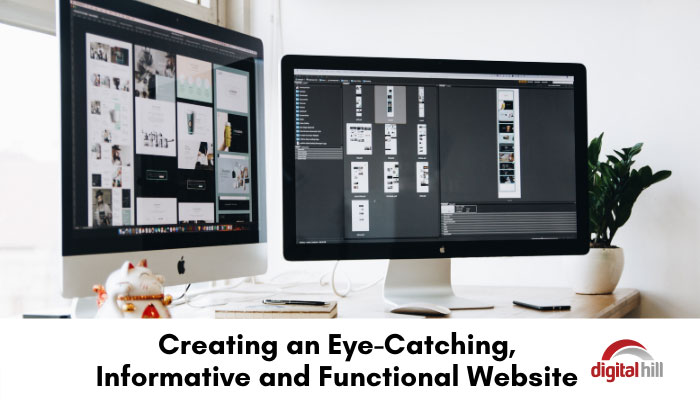 The design of your website determines your audience's first impression of your business. With an estimated 48% of internet users relying on the website's design to determine the credibility of any business, creating a beautiful website is undoubtedly crucial. Web developers will attest that a lot goes into developing a user-friendly website. This includes great appearance, navigation, coding, and functionality. With that, below are some key factors to consider when creating an eye-catching and functional website for your business.
1. Focus on the Details
Users coming across your website for the first time will be on the lookout for attention-catching elements. As such an eye-catching website should feature incredible visuals that prompt users to check out your business. Take advantage of visual elements, including videos and other infographics on the landing page.
However, ensure that you only integrate visual elements that relate to your business. You shouldn't include photos and videos just for the sake of improving its appearance. Any visuals should be a clear reflection of your business. Some good visuals to feature in your website include photos of your products, office, or employees at work, and other related photos.
2. Simple Menu
Including a simple menu is also important when designing a functional website. Resist the temptation to make it more complicated or busy, as this hurts your traffic flow and particularly hinders mobile visitors. A creative and exciting website will not mean much if your visitors cannot find any information they are looking for. A simple menu is the best way for website visitors to explore and navigate around the site. Thereby ensuring visitors can locate all the necessary information with ease.
Without a simple and straightforward menu, your website will appear to be unstructured. The menu bars should provide a clear indication that your site is full of relevant information. They should clearly indicate what you offer, what visitors can expect from your business, and speed up your viewers' searches.
3. A Contact Page is a Must
It is also essential to make your contact details easy to find. Having contact information in the site header and in the footer is important as well as links on every page to a contact page. Easy to find contact details have proven to increase your visitors' engagement levels. Otherwise, if your contact details are hard to find, potential customers may ignore your services.
You can also consider including your social media links in your contact information. By using social plugins your website will be more interactive, enabling visitors to share your content on various social media platforms with ease. They are a great way of boosting brand awareness, growing your presence on social media, improving engagement, and easing the generation of natural backlinks.
4. Color Choice
An eye-catching website should also have colors aligning with the business brand. Your color choice has a serious impact on how people perceive your brand. It is important that you understand what different colors mean and how they will influence your audience's perception.
If you already have a color chosen for your brand, ensure that you integrate them perfectly. If you haven't chosen the colors, stick to a maximum of three or four colors. Have the main color, a font color, and up to two accent colors. You should then use these colors consistently on every page.
Bottom Line
A functional and eye-catching website attracts valuable traffic and encourages online visitors to interact with your website. This is why investing in website design is crucial. Along with the elements mentioned above, ensure that you use easy to read fonts, make use of white space, and make it mobile-friendly. Making it mobile-friendly will attract mobile browsers, who make up the majority of internet users currently.
Check out one of the latest sites Digital Hill created with these tips in mind.