Why You Need a Mobile Responsive Website Now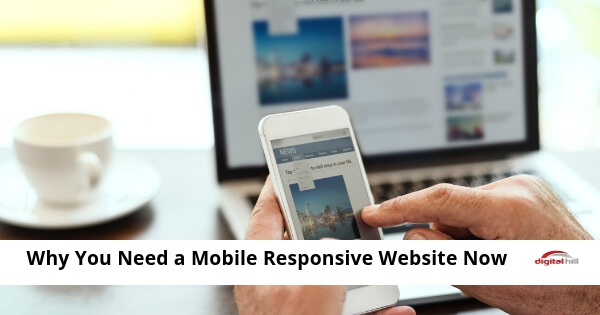 You've probably read about or heard experts advising digital businesses to join the mobile marketing bandwagon. Some have even gone as far as to warn marketers of dire consequences such as loss of market share and eventual business death should they continue to ignore mobile marketing.
And, if you've been careful, you might have heard the word "responsive" mentioned almost all the time: "make your website mobile responsive," "invest in responsive design," "you need a mobile responsive website," and so forth.
Question is – should you listen to them? Or, is this one of the endless pop culture propaganda? Below, we round up five key reasons why you should heed the call.
Mobile Devices Now Account for 78% of Internet Time

According to a recent report, a majority of consumers are accessing the internet via mobile devices (especially smartphones) rather than personal computers. Up to 73% of internet time is spent on mobile devices, up from 70% in 2017 and 65% in 2016. By the close of 2019, this figure could reach 79%. There couldn't be a better indicator of the shift in communication channels. Mobile is the new king!

Growth in Mobile Use is Not Slowing Down

In addition to the increasing time spent on mobile, adoption (penetration) of the devices is also on a steady rise. The above report says that by the end of 2018, 66% of consumers will own a smartphone, up from 63% in 2017 and 58% in 2016. In developed markets such as the USA and most of Europe, smartphone penetration will reach 80% or higher by December 2018. This is another clear reminder that mobile marketing may no longer be a choice; it's mandatory.

Google Favors Mobile Responsive Sites for Search Results

If you're still unconvinced, perhaps you'll change your mind after hearing this: Google has openly stated that the search company favors mobile-optimized sites. This is especially true for local searches. Everything else kept constant, a responsive site will be ranked higher in search engine result pages. After everything you've done for your business, it would be such a waste to risk low SERP ranking for lack of responsive design.

Positive Website User Experience and Ripple Benefits

Today's consumers love to shop across devices. Quite a number will discover your store on mobile and read your blog posts on a tablet before requesting a quote on PC. Responsive design ensures that such journeys are seamless and as painless as possible. In the end, consumers get to enjoy renewed freedom while businesses owners capture more leads.

Reduced Cost of Maintenance

Every website must be professionally maintained for maximum ROI. You need to test elements, update and upgrade software, update content, fix bugs, and sometimes even redesign the site. Imagine having to do all that twice! Draining, right? Yet, that's what you'd have to contend with if you decide to run a separate mobile website. Responsive design merges your PC and mobile sites, thus eliminating this unnecessary burden.
Responsive design Future-Proofs Your Online Presence
Finally, the digital landscape keeps changing and so does the web design industry. New technologies come and go. For instance, rigid grids are no longer the norm. Designers now favor fluid grids for flexibility and scalability. Also, oblique shapes such as rounded corners for dialog boxes have become industry standard. Responsive design is central to the successful adoption of most of these new trends.
So, don't be left behind. If you haven't done so yet, schedule a conversation about a mobile responsive website design today. That single act could revolutionize your digital presence.