Facebook Marketing Strategies that have Proven to be Successful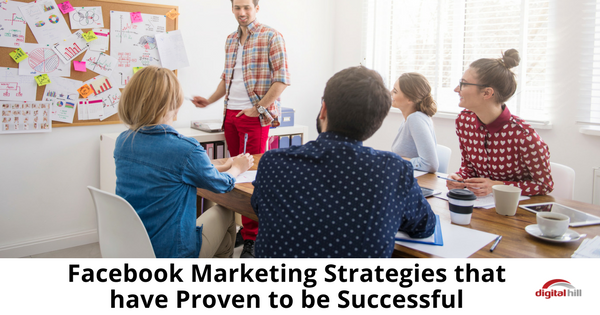 Marketing and Facebook have become bosom buddies. Facebook sits at the top of social media platforms and key marketing opportunities. By using Facebook, you can ramp up conversions, traffic, sales, and social media following all while growing your brand's influence. To capitalize on this giant's marketing power, you need to use effective strategies.
Proven Strategies for Facebook Marketing
Why waste time (and money) wondering what does and doesn't work when you can go with tried, tested and reliable strategies?
Use Your "Free" Ad-Spaces
Your brand's presence needs to be felt throughout your page. Before you create that first ad, look for these free advertising spaces – your profile pic and your cover page. Your logo could suffice for your profile pic. For the cover page, make sure you have engaging copy for your business description and feel free to get creative. Take advantage of the flexibility of a cover page and change it up for:
Holidays
Promotions
Special Events
Milestones
Invest in Facebook Ads
As we all know, not everything in life is free. When doling out money for ads, however, think of Facebook ads as the next best thing to free – an investment. Facebook ads are a cost-effective way to drive conversions. Determine what you want to build (likes, engagement, app installs, offer claims) and use Facebook's many targeting options to nail down your target audience.
The best Facebook ads are timely, eye-catching, creative, well-crafted and engaging. Take a look at two ads featured in Adespresso's list of inspiring Facebook ads. Each ad serves as a great example of a high-quality, engaging Facebook ad.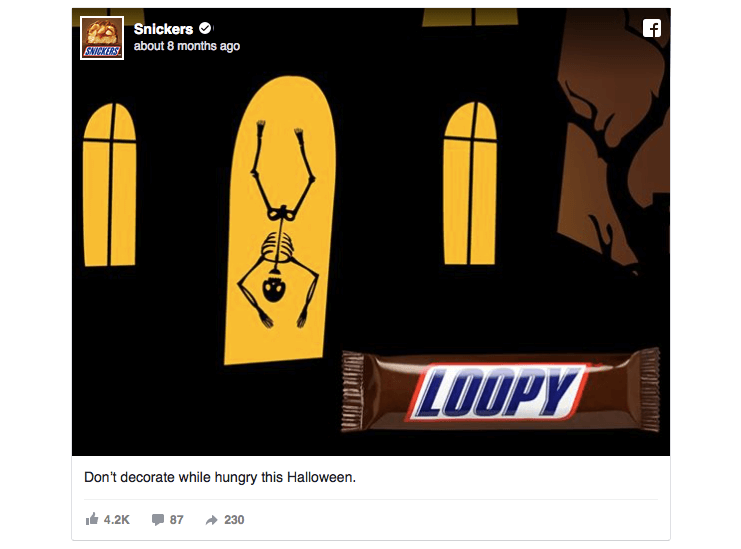 The Snicker's ad is witty, positive, timely and makes use of the season to sell their famed products.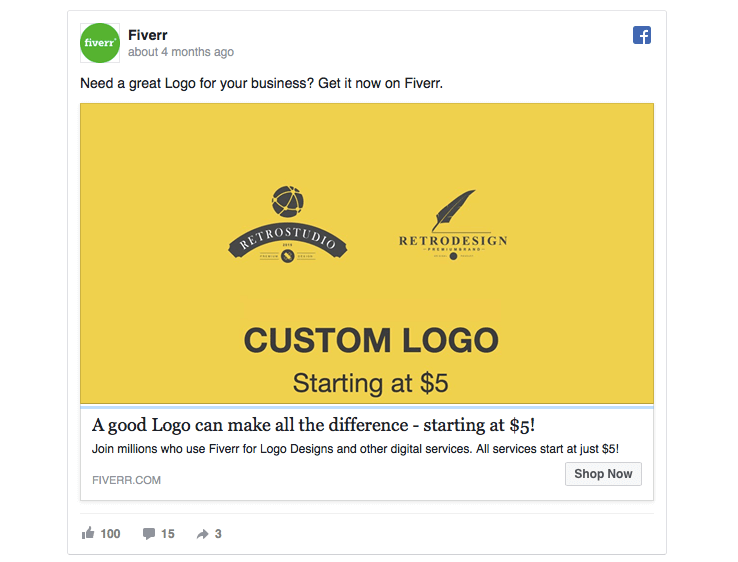 Fiverr's ad employs color psychology to elicit positive emotions towards the brand while drawing in the audience.
Engage Your Community
Building a relationship with your customers goes a long way in fostering repeat customers and customer loyalty. Show your fans that you care about their opinions and thoughts.
Create a dialog by asking followers relevant questions. Use the @ feature to tag specific fans in conversations.
Reply to comments and questions as quickly as possible to get the conversation going. Don't forget to ask customers to like and share your content.  In addition to this, you can power up your facebook messenger with a chatbot.  You can build your own Facebook chatbot and stay available to your customers in case they need a quick answer or additional information.
Engage With Other Pages
Facebook lets you discover your followers like and dislikes. Track those likes back to groups and pages your followers frequent and leave a comment.
Set Up a Facebook Group
Create a group for your fans. Open groups are often the best at building traction for your brand. With a group, you can increase engagement by encouraging participation. You can also test content in your group before you publish it to your page.
Create Content Schedules
Consistent posts let audiences know when to expect an update. When you post on a regular schedule, you increase engagement.  Facebook allows you to schedule posts in advance.
If you have a well-defined target audience, you can schedule posts for the best time (such as the time zone most of your fans are in) and increase the number of people who see them. Using the Insights provided by Facebook, view the hours your audience is typically online.
With an effective strategy, you can get the most out of your Facebook marketing. By following these proven strategies, Facebook will be your brand's best tool to grow your reach and build a strong customer base.
Save