How to Automate Your Website Sales Funnel
[fusion_builder_container hundred_percent="no" equal_height_columns="no" menu_anchor="" hide_on_mobile="small-visibility,medium-visibility,large-visibility" class="" id="" background_color="" background_image="" background_position="center center" background_repeat="no-repeat" fade="no" background_parallax="none" parallax_speed="0.3″ video_mp4="" video_webm="" video_ogv="" video_url="" video_aspect_ratio="16:9″ video_loop="yes" video_mute="yes" overlay_color="" video_preview_image="" border_size="" border_color="" border_style="solid" padding_top="" padding_bottom="" padding_left="" padding_right=""][fusion_builder_row][fusion_builder_column type="1_1″ layout="1_1″ background_position="left top" background_color="" border_size="" border_color="" border_style="solid" border_position="all" spacing="yes" background_image="" background_repeat="no-repeat" padding_top="" padding_right="" padding_bottom="" padding_left="" margin_top="0px" margin_bottom="0px" class="" id="" animation_type="" animation_speed="0.3″ animation_direction="left" hide_on_mobile="small-visibility,medium-visibility,large-visibility" center_content="no" last="no" min_height="" hover_type="none" link=""][fusion_text]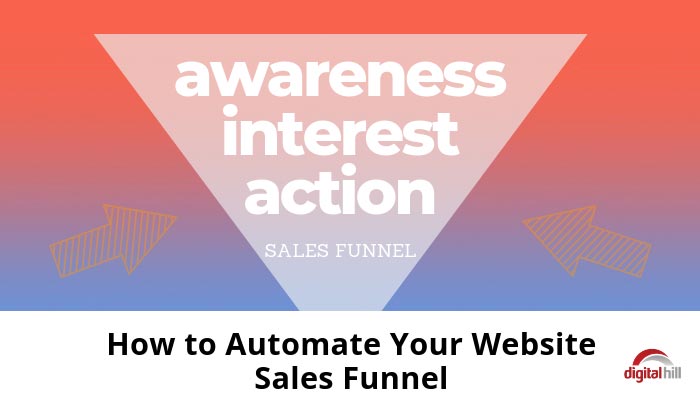 The term "sales funnel" can be heard about on various blogs, webinars, and out of the mouths of countless marketers. But what exactly is it?
A sales funnel is a process that moves your prospects through stages of the buyer's journey to the point where they are ready to become paying customers. Online, this is achieved through the use of content that is designed for each stage (such as sales pages, emails, and webinars).
As a customer yourself, you've likely come in contact with a sales funnel when you've read a blog you liked and joined the email list. That's an example of a simple funnel. For example, perhaps you received a few emails including an offer to make a purchase.
When it comes to pulling in prospects, it doesn't really matter what industry your business is in or the products being sold. Having a sales funnel is very beneficial and applicable to all.
Breaking The Cycle of Feast or Famine
Creating a sales funnel is a powerful way to start and maintain a relationship between your business and your prospects as they are on their buyer's journey.
Why is this relationship important? Say you launch a marketing campaign and gain a wave of new customers. You're currently in the proverbial "feast" phase. But what happens after the work has dried up and you haven't been forming relationships with newer ones? Famine.
A good sales funnel takes your business out of this disastrous cycle.
How to Create an Automated Sales Funnel
As a business owner, you likely already have a bunch of things on your plate (website, marketing, client work, etc). Automation helps to take a few things off your daily checklist.
To effectively automate a sales model, you have to develop a strategy for each section of the funnel: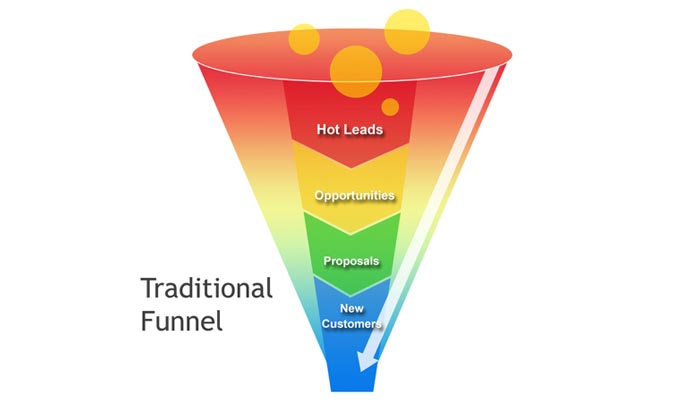 (Image Source: Neil Patel)
Top of the Funnel
At the top of the funnel, you must work on generating awareness of your brand and boosting the number of leads. This can be done by running ads on social media or writing a series of blog posts to get readers aware of your brand. A blog also showcases authority and is a way to begin offering helpful and engaging content to your audience.
This is also where you would offer a  high-value lead magnet such as a worksheet, an ebook, a masterclass, or training that will entice people to sign up to your email list. Just check out this opt-in from Caitlyn Pyle for example.
Middle of the Funnel
In the middle of the funnel, things begin to heat up. Email automation will allow you to begin communicating with leads through a series of pre-made emails.
Here's an example of an email series that would typically be sent in an automated funnel:
The Lead Magnet – New subscribers immediately get the ebook and webinar they signed on for
Welcome Email – Introduces the business to the prospect
Product Pitches – Starts selling customers on the services and products
Bottom of the Funnel
At the bottom of the funnel, you begin closing the deal with content that nudges prospects to decide to become paying customers. This is where you would implement selling tactics such as:
A free trial
A product demonstration
Webinars
Conversations with a salesperson
And the deal is sealed!
The beauty of an automated system is that a new customer can be removed from your sales email list and placed on a more specialized one automatically.
Whether your business is service-based or product-based, setting up a sales funnel can keep bringing in customers and grow your business. Once an automated sales funnel is set up and the sales start rolling in, you'll be glad you did it!
Need help with a strategy and implementation for your online sales funnel?  Talk to us today!
[/fusion_text][/fusion_builder_column][/fusion_builder_row][/fusion_builder_container]