Understanding the Email Marketing Cycle
[fusion_builder_container hundred_percent="no" equal_height_columns="no" menu_anchor="" hide_on_mobile="small-visibility,medium-visibility,large-visibility" class="" id="" background_color="" background_image="" background_position="center center" background_repeat="no-repeat" fade="no" background_parallax="none" parallax_speed="0.3″ video_mp4="" video_webm="" video_ogv="" video_url="" video_aspect_ratio="16:9″ video_loop="yes" video_mute="yes" overlay_color="" video_preview_image="" border_size="" border_color="" border_style="solid" padding_top="" padding_bottom="" padding_left="" padding_right=""][fusion_builder_row][fusion_builder_column type="1_1″ layout="1_1″ background_position="left top" background_color="" border_size="" border_color="" border_style="solid" border_position="all" spacing="yes" background_image="" background_repeat="no-repeat" padding_top="" padding_right="" padding_bottom="" padding_left="" margin_top="0px" margin_bottom="0px" class="" id="" animation_type="" animation_speed="0.3″ animation_direction="left" hide_on_mobile="small-visibility,medium-visibility,large-visibility" center_content="no" last="no" min_height="" hover_type="none" link=""][fusion_text]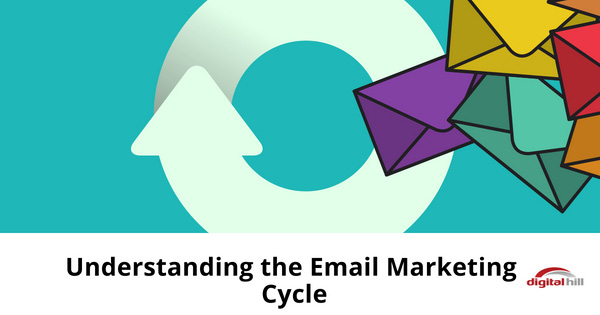 Email marketing still reigns supreme. With an ROI of $44 for every $1 spent, it's a must-have for any digital marketing campaign.
To succeed with your email campaign, however, you need to understand that you can't just send whatever you want whenever you wish and to whomever you want. Such a scattergun approach is bound to fail.
Instead, you must choose your email messages carefully and time them perfectly to gain the highest engagement rates. As well, you must send the right message to the right business database list. One way to organize your campaign is by following what is known as the email marketing cycle.
Also popular as lifecycle marketing, the email marketing cycle involves sending relevant messages informed by the position of the contact in the customer lifecycle.  You track every move your customers make and send emails that are likely to benefit them (and your business) the most at that specific moment.
Four Main Stages of the Email Marketing Cycle
Step #1 On-boarding
On-boarding is the very first step after a contact subscribes to your email list. At this stage, all you know is that the contact has interest in your business or offers. The reason for their interest is still unknown, but they are giving you a chance to show them what you have and convince them to make the next move.
Emails at this stage are geared toward welcoming the contact and learning more about them. Who are they? Where do they come from? What are they interested in? And so on. Capturing this information early on allows marketers to send valuable, personalized messages going forward.
Step #2 Lead Nurturing
Once you've gathered sufficient data about your new contacts, it's time to officially introduce them to your brand and products. Without sounding promotional, tell the contact the most important aspects of your brand; what you stand for, how you're different, how they stand to benefit and so on. Don't forget to invite them to your social media communities.
Put simply, you want to make the contact feel that they're in the right place; that you're the person to solve their problems. Once they feel safe, you'll have their attention.
Step #3: Promotion/selling
Now, you can begin to promote. Your lead knows enough about the brand and even your products. They also understand the perks of buying from you. They might still need a little push to open their wallet, but you're almost there.
Some of the best emails at this stage include messages promoting offers and discounts. Let them know about upcoming deals and coupons, send information about new products, and hype any seasonal sales. A majority of contacts will at least click through to your website to take a closer look at the offers.
Step #4: Transactional emails
The contact just made their first purchase, completing the journey from a stranger, to prospect, to lead, and finally to a customer!
Take this opportunity to thank them for doing business with you and provide any useful information and messages that might encourage them to return in the future. For instance, send purchase confirmations indicating when the product is likely to arrive. Also, send follow-up emails suggesting related products that the customer might be interested in.
Don't Forget Behavior-Triggered Emails
Sometimes, a lead or customer can interact with your business in a way that demands a special response. For instance, a lead might send an email asking about product details. Or, a customer might abandon a purchase midway. When this happens, you need to send appropriate emails addressing that situation.
If you can successfully implement this email marketing cycle, you're guaranteed plenty of email traffic and sales.  Have questions or need help developing an email strategy and campaigns? We can help!
[/fusion_text][/fusion_builder_column][/fusion_builder_row][/fusion_builder_container]