How to Find Topics to Blog About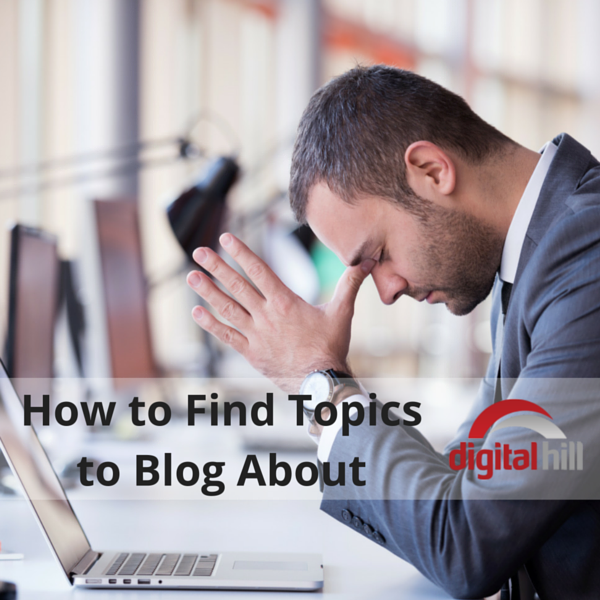 People expect fresh and interesting content all the time on the web. It's quite a tall order, but it isn't as impossible as it sounds. There are ways to curate topics and ideas that can give you just the focus and ideas you need to spin out some new posts for your website.  New content is great for the audience and helpful for the Google animal that helps determine your page ranking in search!
Out on the web there actually is lots of inspiration for business blog topics, so just keep your eyes peeled for the following:
Analytics — The keywords that bring people to your site should give you a clear idea of what they want to know more about. To deliver highly targeted content, use alternative keywords that have less competition than the main keywords.  This simply requires you review your web traffic stats regularly to learn what is of most value!
Competitors — What's the competition posting about? Find out what they're up to, and create content that is better than what they have, or a slight twist different than what they are offering. For example, if they released an article on '7 Best Mobile Apps,' create your own list of '17 Mobile Apps You Can't Live Without.'
Future forecast — You don't know what tomorrow brings, but you can take an educated guess. Predictions are fun to talk about, and fun to look back on when the time comes.  Since you are immersed in your industry, you have knowledge and background to add to your thoughts on the future that others will want to hear!
Guest posts — Whenever your well of creativity is running dry, turn to other bloggers who are willing to contribute guest posts. A different perspective may be just the thing you need to make you feel motivated again (and give you a needed break!)
Latest news stories — Current trends aren't evergreen, but they generate current interest. If a certain hot topic relates to your business, hijacking it to your advantage is a good move.  Respond quickly to breaking news with content that users will devour as they seek to "find out more."
Mind maps — One concept branches out into hundreds more when you sit down and create a mind map or a visual representation of a single idea and all its related ideas shown as images or words. You'll be surprised at how many potential topics you can come up with during this activity.  It's like a tree with branches.  Consider doing it on good ol' paper with a pencil!
Offline events — Whether it's a huge networking event or a small community gathering, chatting with people in person leads to a healthy exchange of ideas that online discussions can't replicate.  What do they share?  What questions do they ask?  These are golden to write about topically!
Personal experiences — Mistakes and achievements make excellent topics. People are eager to get tips to either avoid a disaster or duplicate success.
Polls — It pays to be upfront. Go straight to the point and ask your target market what they wish to see on your site. Not much surprise there, but at least you're sure you're giving them what they want.
Publications — Printed newspapers and magazines are still valuable resources, so peruse them frequently to get your dose of inspiration.
User feedback — Sometimes, people bring up questions through email, feedback forms, or social media comments. Strive to provide answers if you haven't yet.
Ideas strike anytime and anywhere, so don't forget to carry a pen and paper with you (or a smartphone with a note-taking app, if you're technologically inclined). You never know if a great topic comes to mind while you're lining up at the supermarket counter or just getting out of the shower in the morning!