How to Use Social Media to Drive Traffic to Your Website in 2021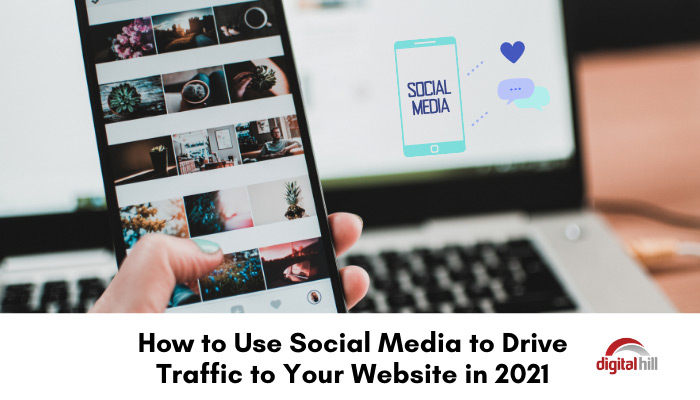 Every business owner dreams of driving high traffic to their website, regardless of the type and size of their business. Fortunately, social media can help both small and established business owners increase their brand awareness and reach new audiences. Recent statistics show that approximately 92% of business owners using social media find it beneficial for their businesses. With the global number of social media users expected to surpass 2.5 billion this year, it is the best time for businesses to find and connect with their ideal audience. Below are a few tips on how you can leverage social media to drive traffic to your website.
Complete and Optimize Your Social Profiles
Regardless of your social media platform of choice, your profile is crucial to building brand awareness and recognition. Optimizing your social media profile will help drive good traffic to your website. Like website SEO, you should optimize your social media profiles. You can do so by including relevant keywords in your social media bios.
A perfectly optimized profile should communicate your brands' value proposition immediately. Create a distinct bio that doesn't compromise on clarity to attract and resonate with your ideal audience. Also, try to use branded products in your marketing. Ensure you use your logo, and include links to your other social media profiles.
Engage with Your Audience Consistently
Unlike other digital marketing strategies, social media allows you to engage with your audience directly. You can easily interact with potential customers, get real-time feedback, and evaluate the customer experience. Engaging with your audience consistently will boost both social media and website traffic. Being interactive also improves your brand image.
However, avoid combining self-promotion with social media engagement. To improve your website traffic, remember the following;
Social media platforms are a two-way street.
Don't ignore your audience. Interact frequently to avoid losing them.
More than 34% of customers use social media for their customer support inquiries.
However, on average only 11% of customers receive replies from online businesses. As such, you should learn how to manage your social media inboxes. Take advantage of your social media management tools to keep your audience in the loop.
Create Viral Content
Going viral has become a common term in social media. Anything unique, relatable, or enticing can potentially drive traffic to your website. Viral content is important if you want to increase both social media and website traffic. However, this doesn't come about easily. Not all posts can go viral, and some may affect your brand negatively.
Therefore, for your content to be viral, it should align with your brand values, and your audience should be willing to share. Common viral content includes memes and content that can appeal to the human senses, such as videos.
Post Consistently and When Your Audience is Active
Posting regularly is another effective social media marketing strategy that grows your follower list and increases social media and website traffic. Posting consistently will increase your likes and followers depending on several factors, including time zone, hashtags used, and target audience.
Note that different social platforms have different posting frequencies. For instance, you should post at least once on Facebook, 15 times on Twitter, and once or twice on Instagram daily. So, as you organize your posting frequency, ensure that you post when your audience is active.
Other tips include
Use social proof
Make use of less popular platforms, such as Pinterest and Reddit
Make your website content shareable
Focus on visual content
The Bottom Line
While various social media strategies to drive traffic are effective, there is no one-fits-it-all method. What works best for another business may not be effective for your business. Regardless, you should try the several strategies above to earn organic traffic.