Injection Mold Manufacturer Ironwood Plastics Website Launched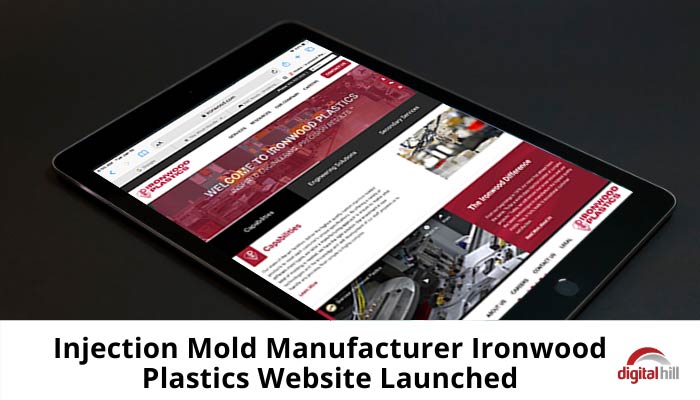 WordPress powers just under 50% of all websites. This percentage is increasing each year as more and more businesses realize the benefits of having a website. Websites enable businesses to market where their customers now are – online. Websites not only let you reach a larger audience but also help you to grow brand credibility and awareness. One of our custom website projects, Ironwood Plastics website launched recently.
Ironwood Plastics is one of many manufacturing businesses enjoying the benefits of going with WordPress. They engineer customized molded products and plastic parts. As such, they needed a website that showcased their unique processes and quality products. By using WordPress with Gutenberg, their new website is engaging, easy to use, and full of crucial information. Below are the main features of their brand new business website.
Easy Layout
The Gutenberg editor for WordPress is both user-friendly and backend friendly. This is crucial as it is easy to update and add new content to as needed. Gutenberg offers a library of drag and drop blocks to create a customized website. These blocks include images, text, tables, buttons, and more. This drag and drop feature makes it easier than ever to add a new blog post or update a webpage. Gutenberg even offers a dedicated training portal for the website owner.
Slide Out Feature
Using the slide out feature for Ironwood Plastics was a simple choice. With a minimal profile showing the icons, this CTA feature stays on the right-hand side no matter how far you scroll down the page. This enables easy access for users to the hiring, quotes, and email signups no matter where on the website they are. It shows on every page, so as potential clients view the process details they can simply click to ask for a quote.
Usability
The easy to use features of Gutenberg do not compromise the usability of the website. One of the key elements of website usability is the menu options. This should always be clear, and concise so viewers can locate the content they need. For Ironwood Plastics we used both headings and subheadings to clearly direct users. Alongside the menu is a clear Contact button – making it easy for users to find contact information.
Visual editing is another advantage of using Gutenberg. This makes the website building process easy to customize, even without coding knowledge. Additionally, where many webmasters try to limit image use for page loading speed, Gutenberg offers no such limitations. This allows users to experience a media-rich, high performing website. Lengthy blog posts and extra images cause no delay to your page loading speed.
Mobile Friendly
With the world becoming more mobile, 60% of search engine queries now originate from mobile devices. Thanks to Gutenberg, the Ironwood Plastics website operates flawlessly on mobile devices. None of the functionality is lost when viewing on a mobile device. In fact, everything including the custom slide out feature transfers seamlessly to mobile. This can make all the difference for potential clients that are always on the go.
In Conclusion
We used the Gutenburg editor for the Ironwood Plastics website that we recently launched. Using the Gutenberg editor for WordPress could be exactly what you need for your business website. It has the capabilities to handle quality content and offers easy update tools to keep your website up-to-date. WordPress is a tried and tested website platform, and the addition of Gutenberg has increased the benefits available to business owners.
Looking to upgrade or launch a new high performing customized website? Contact us today to discuss.