Keep Your Site Secure by Updating WordPress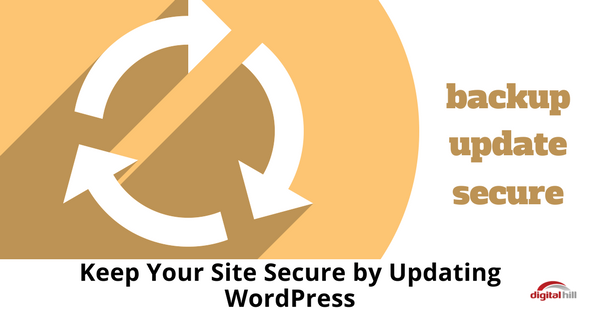 If you're relatively new to WordPress, chances are a notification of a new version that you should upgrade to has you break out in a cold sweat. Even if you're a WordPress expert, you might wonder if your plugins and theme will work on the new version, and if or when you should upgrade.
The truth is, it's a good idea to  use the latest version of WordPress and here's why:
Stay Ahead of Hackers
WordPress is the world's most popular website platform. So it stands to reason it's a major target for hackers. If they can hack into one WordPress site, they can potentially access thousands.  Hacking a version of WordPress or a plugin is increasingly vulnerable the older the versions of WordPress and plugins you are using. If your security isn't strong and up-to-date, you could lose your whole site.
WordPress is open source, which means the WordPress community at large contributes to the code. There are many people who know WP's strengths and weaknesses. While the majority of the WordPress community is helpful and generous, there will always be a few that look to take advantage of any bugs and holes.
Wait too long to update your site, and you run the risk of having a loophole that could be exposed and thus the potential of losing control of your site. If you don't keep your WP, theme, and plugins updated, and you process payments or store customer data you may be exposing your customer's information to hackers.
What To Do Before You Update
You should backup your website before making any drastic changes. Just in case things don't go according to plan. Tools like Updraftplus make this a fairly straightforward process.
In fact, it's always a good idea to backup your site on a weekly or at least monthly basis. Because you never know what will happen.
Keep your plugins, theme, and framework up to date also. While minor WP updates may not affect the functionality of your plugins, a major update to WordPress may interfere with the functionality of your plugin.
How to Update WordPress
Updating WordPress is fairly easy. Chances are, you'll receive an email notifying you of the update. Don't worry about cost; the updates are free.
When you login, there will be a link on the home screen. After you've backed up your site, click the link and follow the prompts. Once the update is done, you'll still need to update plugins. Then your site should be safe from malicious attacks until the next update rolls around.
Most updates go smoothly, with no downtime. But it's always a good idea to schedule your updates for times when your site is not busy, just in case there's a problem.
Need help and want this taken care of for you?  Let us help!  Digital Hill offers a security service where we can take care of updating your site and ensuring it has the latest versions and plugins needed.  Contact us today!
Save