Landing Pages vs Web Pages: What's the Difference?

What's the difference between a landing page and a web page?
Do you know when you should use a landing page instead of a web page?
We'll explore the differences, Landing Pages vs Web Pages, in this post and give you insights on the differences, when to use, and a easy way to create landing pages.
The Basics:
Landing pages are a form of a web page.  They usually are intended for a very specific purpose such as a sign-up, to gather information or to sell a product.
Landing Page Key:
The key difference is that they
are simplified and have no distractions.
Standard web pages are part of a larger website.  As such, they have common design and navigation items, meaning more things to see and more ways to go other places on the site.
Web Pages:
For example, a website often has standard links at the of the page and often at the side of the page for items like:
About
Services
Company Information
Blog
etc, ( Basically whatever links are key to their business)
They may have other images or call-outs as well that lead to other pages of the website.  It's an integrated group of pages geared to help the web visitor coming to a website and wanting to find and then navigate to an area of interest.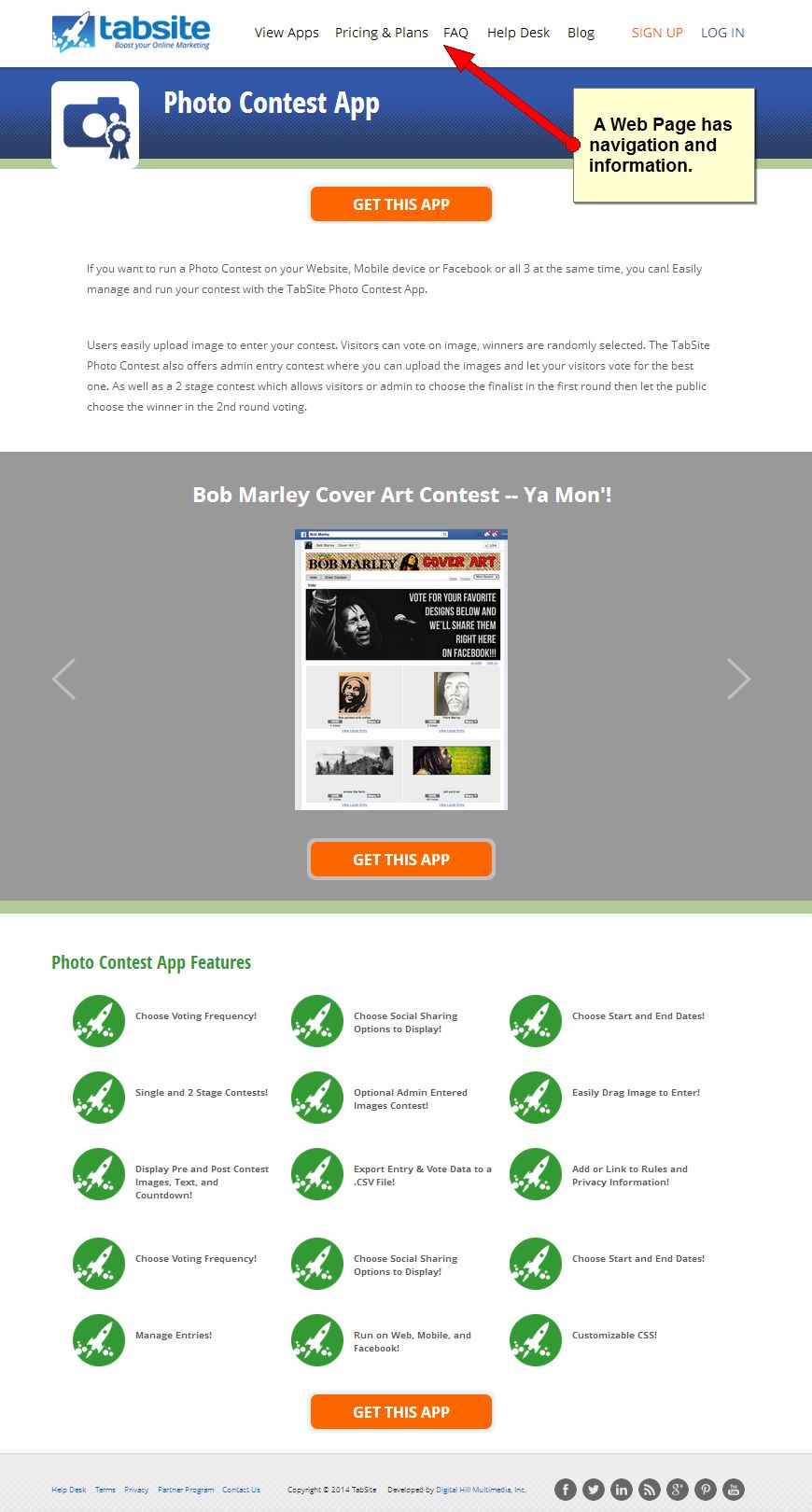 Landing Pages:
Landing pages, however, are a different tool than web pages of a site.
They are not for general use, and do not look like the other web pages, though they can be at the same domain.
Landing pages are built to drive traffic for a specific marketing campaign goal.
The intent is to focus the visitor solely on the intent of the page, such as the sign-up process.
No distractions.  No other options.  Simply to inform and get user to take the single action noted. (click to view)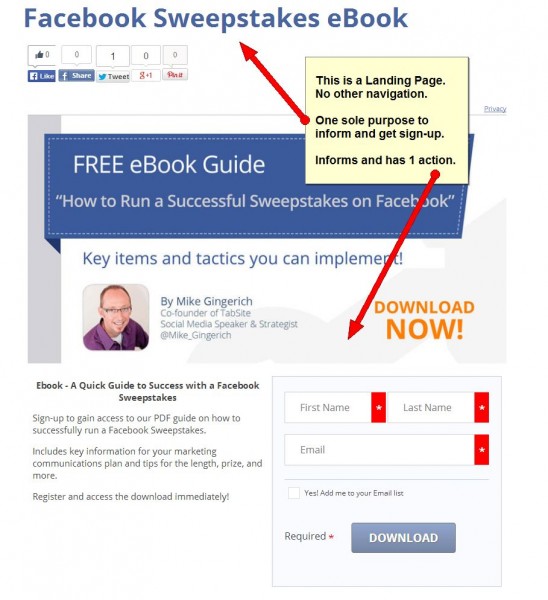 When would you use a Landing Page?
To grow your email list by offering a resource incentive to sign-up (eBook or Video for registering, etc)
With a Sweepstakes drawing where the focus is on gathering names and email addresses
For a Event Sign-up page where users will need to purchase to register
With a coupon or deal offer where users sign-up to access the offer
For a product offering sales page to focus on driving sales of one product
Why use a Landing Page?
You want your audience to be totally focused on the goal….Entering and submitting.
You want to eliminate distractions and other options to click through to.  Landing pages do this.
Your website is geared to serve another purpose… orientation, education, and introduction.
The value of a Landing Page:
If you want people to enter, sign-up, or register, is it better to give them a page with 5 other options to do and see (like on your home page) or to have them focus 100% on one thing… SIGNING UP!
Obviously, if your goal is to keep them focused on signing up, the value is 100% on that sign-up and anything else is a distraction at that moment in time.
Bottom line for Sales and Marketing Campaigns:  Use Landing Pages!
According to marketing automation software Hubspot quoted in this post on TabSite…
"A good landing page will target a particular audience, such as traffic from an email campaign promoting a particular ebook, or visitors who click on a pay-per-click ad promoting your webinar.
You can build landing pages that allow visitors to download your content offers (ebooks, whitepapers, webinars, etc.), or redeem other marketing offers such as free trials, demos, or coupons for your product.
Creating landing pages allows you to target your audience, offer them something of value, and convert a higher percentage of your visitors into leads, while also capturing information about who they are and what they've converted on."
That's the basics!  Got it?
In short, Landing Pages are good to use beyond your normal web pages when you are running a marketing campaign or sales campaign that is focused on one action.
What's a simple Landing Page tool?
Our TabSite software offers any business the ability to create a custom landing page for sales promotions.
Key features of the TabSite landing pages:
Easy to setup for deals, offers, and email list building plans
Setup your company "username"
Multiple layouts based on your app
Included with your TabSite Plan
View all leads captured
Simple, effective, powerful!
Read more about TabSite Landing Page setup.
Are you using landing pages?  What questions do you have about landing pages?