Managing Your Google My Business Listing
[fusion_builder_container hundred_percent="no" equal_height_columns="no" menu_anchor="" hide_on_mobile="small-visibility,medium-visibility,large-visibility" class="" id="" background_color="" background_image="" background_position="center center" background_repeat="no-repeat" fade="no" background_parallax="none" parallax_speed="0.3″ video_mp4="" video_webm="" video_ogv="" video_url="" video_aspect_ratio="16:9″ video_loop="yes" video_mute="yes" overlay_color="" video_preview_image="" border_size="" border_color="" border_style="solid" padding_top="" padding_bottom="" padding_left="" padding_right=""][fusion_builder_row][fusion_builder_column type="1_1″ layout="1_1″ background_position="left top" background_color="" border_size="" border_color="" border_style="solid" border_position="all" spacing="yes" background_image="" background_repeat="no-repeat" padding_top="" padding_right="" padding_bottom="" padding_left="" margin_top="0px" margin_bottom="0px" class="" id="" animation_type="" animation_speed="0.3″ animation_direction="left" hide_on_mobile="small-visibility,medium-visibility,large-visibility" center_content="no" last="no" min_height="" hover_type="none" link=""][fusion_text]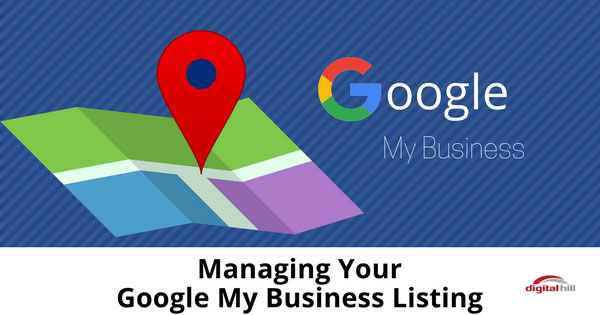 If a company has out of date information, such as inaccurate hours, an old phone number or the wrong website link in their Google business listing, would you feel comfortable working with them?
In most cases, the answer to that question is no. Now consider your own Google My Business listing. When is the last time you checked it and updated the information? Here are a few management options for your company's profile on Google.
Have You Verified Your Business Listing?
One of the most important things you need to do with your Google My Business listing is verify it. Google officially associates the listing and location with your Google account and makes the business listing visible. The best way to do this is for Google to send you a verification postcard to the business address.
Fill Out as Much Information As Possible
The more information, the better.  You want potential customers to know as much as possible before they come into your business. What would someone look for when they search for your business? Double check your information for accuracy and make Google My Business the first stop after changing locations, hours or other info.
Don't Skimp on Keywords
Search engine optimization isn't just for your business website. Incorporate some of your keyphrases in your listing. Ideally, focus on local keywords that target your city, region or neighborhood, depending on the size of your service area.
Stay Engaged With Customers
Customers can write reviews on your business listing page. Take this opportunity to engage with them, whether their opinions are good, or bad. Each interaction gives you a chance to present your business positively and willing to take compliments and learn from criticism. It's important to even go after and ask for reviews for this area from happy customers!
Fill It With Photos
Users can submit photos of your business to your listing. But don't rely on user-submitted content alone. Add your own professional shots and show off the front of your location so people will quickly recognize it as they drive by. Show that your business is accessible, wheelchair ramps, elevators, and other features make it easy for your entire audience to visit.
View Insights
Your Google My Business listing gives you valuable data that shows how your customers found you, where they come from, what the users did after they found your listing, and whether they needed to look up directions to get to your store.
You can use this information to improve your marketing and ad targeting, discover new market opportunities, get a deeper understanding of your current prospects and learn more about your digital visibility.
Need help getting this setup?  Contact our team today!
[/fusion_text][/fusion_builder_column][/fusion_builder_row][/fusion_builder_container]