Yoast SEO for WordPress Websites
[fusion_builder_container hundred_percent="no" equal_height_columns="no" menu_anchor="" hide_on_mobile="small-visibility,medium-visibility,large-visibility" class="" id="" background_color="" background_image="" background_position="center center" background_repeat="no-repeat" fade="no" background_parallax="none" parallax_speed="0.3″ video_mp4="" video_webm="" video_ogv="" video_url="" video_aspect_ratio="16:9″ video_loop="yes" video_mute="yes" overlay_color="" video_preview_image="" border_size="" border_color="" border_style="solid" padding_top="" padding_bottom="" padding_left="" padding_right=""][fusion_builder_row][fusion_builder_column type="1_1″ layout="1_1″ background_position="left top" background_color="" border_size="" border_color="" border_style="solid" border_position="all" spacing="yes" background_image="" background_repeat="no-repeat" padding_top="" padding_right="" padding_bottom="" padding_left="" margin_top="0px" margin_bottom="0px" class="" id="" animation_type="" animation_speed="0.3″ animation_direction="left" hide_on_mobile="small-visibility,medium-visibility,large-visibility" center_content="no" last="no" min_height="" hover_type="none" link=""][fusion_text]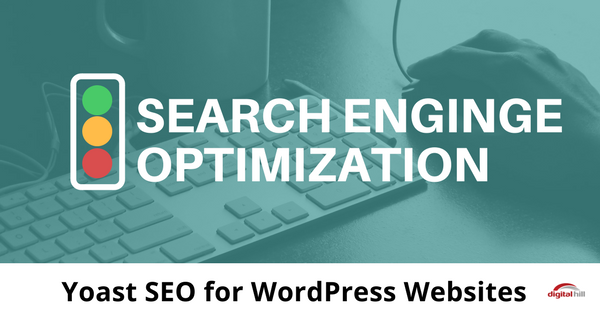 It's so important to draw as many quality visitors to your website as possible. Being on the first page of Google for the keywords people search for your products and services is essential for any business.
That's why I use and recommend the search engine optimization WordPress plugin Yoast SEO. It has a free version, so there is no reason not to give it a try. I was taken back by how easy it is to use and what Yoast SEO did for my website and my client's sites from using the tool over time.  In short, a key benefit of Yoast is that it helps you easily ensure any page on your website is SEO optimized for a keyword term.
Easy to Setup
The beauty of WordPress is its ability to easily and quickly accomplish tasks that would be extremely challenging with other website software. For instance the ability to quickly add and remove website features without much fuss via plugins.
To add the Yoast SEO plugin just go to plugins on your manager sidebar >> new plugins and search for Yoast. Add it to the site and activate it.
Yoast doesn't require a lot of optimization out of the box, and you can get into the nitty-gritty and customize the heck out of it if you want.
The free version provides fantastic benefits. And there are some incentives for using the Pro plugins like optimizing for additional keywords, optimizing social media posts and images and optimize redirects.
Keyword Optimization
Keyword optimization can be a challenge for this writing web copy for individual website pages. That is where the keyword optimization tool in Yoast SEO is exceptionally beneficial. With the free version you can optimize a post or web page for a single keyword phrase. But with Yoast SEO Pro, optimize up to 5 keywords per page.  Simply type in the phrase and Yoast analyzes the page content and gives you feedback in simple "stoplight terms of green, yellow, or red" status.
Checks and Scans
The Yoast SEO plugin reads the content I create for a post and comes back with a readability score. This way, I know what I need to improve. It lets me know if my sentences are too long and difficult to read. If they're written in passive voice, which tends to bore readers, I'm alerted. All of this in an effort to make my content interesting and best readable to web viewers.
Google sees images as a big black hole unless they have certain features. So every picture must have Alt text associated with it. Yoast scans every image to make sure my Alt text is in place.
Yoast SEO reminds me to add internal links to my own website. Also to add external links to resources I've used along with giving me other tips and ideas in the summary area.
While all these scans may not sound like that big of a deal, when you lump them together, they make a big impact on your SEO over time. And keeping track of all of this on your own will only bring a pounding headache.
Yoast gives you the ability to make the article indexable for search engines or not, and the links follow or nofollow. It also gives you a place to adjust a canonical URL if needed to make it the most SEO friendly.  While this may sound like a foreign language now when you need these capabilities, you'll have them at your fingertips.  As long as you follow the simple instructions the tool gives you, you can optimize a page fairly easily.
Search engine optimization is one of the most important improvements any website owner can do for their site. Especially if your business relies on Internet traffic for sales, leads and new customers. I can recommend Yoast SEO for WordPress users to help them optimize each page they produce on their website![/fusion_text][/fusion_builder_column][/fusion_builder_row][/fusion_builder_container]