Migrating your Website from One Hosting Service to Another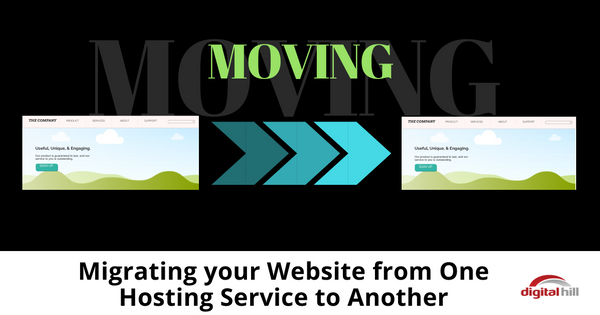 New technologies make moving your site from one host to another much easier. However, regardless of how fast the transfer speed is, the typical customer may experience some degree of downtime during the transfer.
Depending on what is going on behind the scenes, the transfer process of DNS servers between the new and old web hosts can result in a domain "propagating" or going dark between 12 to 72 hours after the change request is submitted to the new host.
However, before you can plan your web hosting provider move, it's essential to find the right service for the job. Look for a web host that gives you the service you want and need.
The Value of Quality Web Hosting
When you own a business, your number one priority is to make sure customers can find you when searching for what you have to offer. If your web hosting provider is sub-par, you won't be found. This typically doesn't have anything to do with your search engine rank, but because your site is down too often.  Dirt cheap hosting is exactly the quality of the price.  Be careful with the low price options!
When a site is down, it means it has fallen into the abyss of web server issues. Until your hosting service gets the server back online, no one can access the website – this is big trouble!  Many times cheap providers host hundreds of sites on one server.  If one of them is compromised it can take the whole server down and every site that is on that server!
The Cost of Excessive Downtime
When your site is down often, even if it's only for short periods of time, you are losing money. You're paying for web hosting services you aren't receiving, and your customers are unable to find you and contact you online. If they're looking for your services or products, they are instead going to find your competition. If they're trying to make an online purchase now, they are going to visit a site that is up and functioning properly.  As well, it will increase your customer service calls with frustrated clients rather than one's ready to buy!
When searching for a web hosting provider, it's essential to ask about their uptime track record. If they have 98-99% uptime, then you've found a good provider. However, if the web hosting company makes excuses for downtime issues, you need to look elsewhere.
Excellent Customer Service
While having a maximum amount of uptime for your website is a top priority, it's simply not possible all of the time – regardless of claims made by a provider. While any downtime is a problem, you need to be able to contact a person when an issue arises. Regardless if the problem happens at 3 in the afternoon or 6 in the morning, having a real, live person to email and talk with to discuss solutions for the hosting issue is important. How will your host offer support?
Web hosting is not a new concept. However, you can't choose just any provider, always check reviews first. For example, check out site5's hosting ratings before you buy, this can help you avoid issues later. You have to put in the time and effort to find the right web hosting service!  Remember, not all hosting is created equal.