Multilingual, Multitool Website: Choretime.com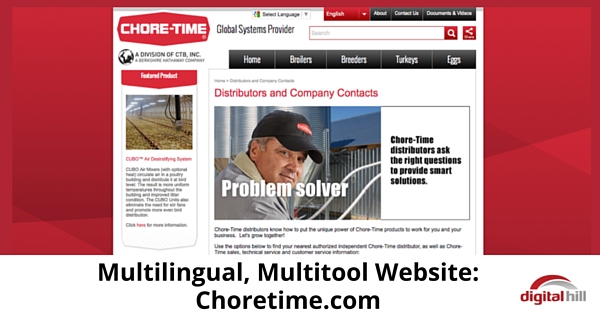 This is another post in our "What we do on the Web" Series of blogs about our Digital Hill advanced website tools where we showcase some of the "beyond standard" tools for websites that we create for clients nationally.
Founded in 1952, Chore-Time is focused on bringing improved productivity to the egg and poultry industry worldwide. Chore-Time started off as a small company and has, over the years, risen to the very top ranks globally due to its leadership and streamlined business processes.
Today, as a Berkshire Hathaway owned entity, the company boasts a global network of customers that look to Chore-Time to help meet growing demands for greater efficiency in the poultry and egg production industries.
A key Chore-Time objective is to maintain a professional, resource-rich global image online. The company needs a web platform where it can communicate its offerings and information with current and potential customers. The Chore-Time website plays a critical role in the success of their business communications.
Major Website Renovation
The original website was aging and needed major changes to deliver the results Chore-Time was committed to. Like many things on the web, after a few years, a website can look outdated and it can be behind in technology features.  Looking at the industry and stature of the company, Chore-Time needed a website with global tools and modern web technologies.
The original site had developed several issues:
Mobile capabilities
With their global consumer base, Choretime.com is accessed and visited by users all around the world.  Due to this global reach and the fact that in many countries mobile devices are massively used for searches and research, the ability to navigate the site on a mobile device was critical. Their previous website wasn't mobile friendly and this can cause a high visitor drop-off rate.
Language
Being a global brand, some of the company's consumers do not use English as their first language. What do you do in this case? Make sure a language translation system is built into the site so that non-English speaking customers can select to use the site in their own language.  Chore-Time opted in the new site to do this by getting their core languages professionally translated, and until each translation is complete, they offer Google Translate so that there is some level of translation available in many languages.
Contact information
Finally, as a global brand, Chore-Time needed to develop a robust Contact Us page to cater to the needs of everyone. The contact page was not as developed and robust on the original site, whereas on the new site it offers the ability to drill down into key contacts by global region and get a detailed list of persons and the products they represent.  This allows a visitor to get to a specific contact person in their nation and for specific products.
Digital Hill's Website Solutions
An effective site structure
The new Chore-Time website (Choretime.com) can be summed up in one word – effective. The structure is clear and navigation is simple to allow for ease of use.  Key areas are readily visible, featured items and videos make it interactive and inviting to be explored.  From the home page, it is easy to access key areas of the site and to be informed of special tools to use within the site such as videos and documents.
Advanced on-site search function
To make navigation even easier, Digital Hill introduced a search function that allows visitors to access any on-site information.  It produces multi-tiered search results by key area (Products, News, etc) so that users can find a variety of useful options to help them discover exactly what they want.
Mobile responsive
The new site is mobile responsive.Chore-Time wanted to take advantage of the search engine favor that Google gives mobile responsive websites and make it easy for customers in other countries that may exclusively use mobile devices to find and use the site with ease.  The site adjusts to the visitors screen, whether phone, tablet, or computer, giving all viewers a great experience on the site.
Social media share function
Digital Hill added social media share buttons at the top right of each page to make social sharing easier.  It's the age of social media!  With great content, you want to make sure it is easy for your own business and visitors to share your web content on social media networks.
Language Translation
Discussed earlier, the new language translation system helps users from all over the world have the site's content in their native language.  The key for Chore-Time is that they can manage which languages appear on the site, and they can move a language from Google's Translate (which is not as good as a custom translation) to their own fully custom translated version whenever they have it ready.  As well, the site's content management system allows them to notify their translation partner when they have new website content updates and they can then receive the updated translation back automatically via the site's advanced web programming techniques.
Contact
As noted, the new contact page system takes site users right to the nearest Chore-Time contact in any particular region. Whether you live in Australia or Hong Kong, you only need 3 clicks to locate the dealer nearest you!  The value is that the robust Chore-Time website content management system makes it easy for the Chore-Time team to add, edit, and delete contacts and assign them as needed so that the information is always current.
Why choose Digital Hill
We understand the technology needs of business websites. We understand that businesses increasingly need website tools to help them gain efficiencies, provide a great user experience, and ultimately to help boost the bottom line.
Contact us today to discuss your unique web needs!
Save