New Collaborative Marketing Features Coming to Instagram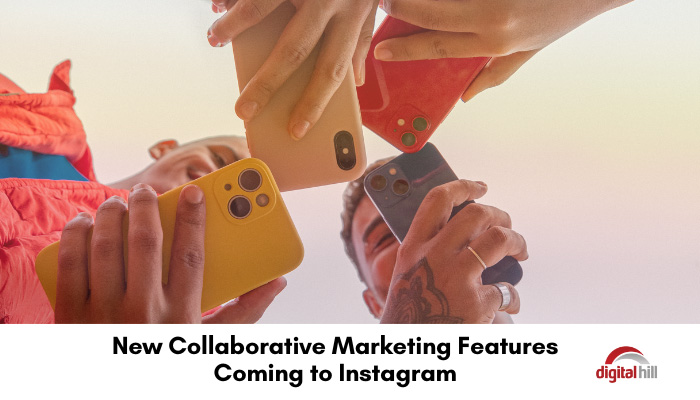 Collaborative marketing is a recent addition to Instagram that you can use to improve your marketing campaigns. An Instagram collaboration marketing post will appear on two feeds and feature two Instagram users as the authors. Instagram collaboration posts will share user performance metrics, such as the number of likes, shares, and comments.
To create a collaboration post, one Instagram user creates the post and invites the other person as a collaborator. The collaborator then accepts the invitation for the post to appear in their feed.
Benefits of Instagram Collaboration Posts
Instagram's new collaborative feature is beneficial to brands using Instagram for marketing in the following ways:
1. Ability to Reach a Wider Audience
The ability to tap into a new audience is an undisputed benefit of Instagram collaboration posts. These posts are a gateway to previously untapped markets. When two brands with different follower bases collaborate, a natural audience cross-pollination occurs. This interaction then introduces your products to a new audience and vice versa.
The collaborative marketing approach also benefits influencers with the same target audience. Combined endorsement introduces your business to a community of already engaged users interested in your offers.
2. Increased Engagement
Instagram collaborative posts breathe new life into your engagement metrics. It helps your brand build a vibrant and interactive online community. Two brands coming together for a collaborative campaign each bring their audiences along with their unique interests and preferences. Combining your followers results in higher engagement rates compared to regular Instagram posts.
Furthermore, these posts create excitement that sparks conversations among your followers. Engaged followers can discuss the collaboration, share their thoughts, and tag their friends to join the conversation. This increases the number of comments and organically extends your content reach on the platform.
3. Ability to Leverage Influencer Authority
You can also use Instagram collaborative posts to harness the power of influencer marketing on social platforms. Social media influencers have a community of dedicated followers who trust their opinions and recommendations. Working with influencers allows you to tap into their established niche authority, which boosts your marketing efforts.
Influencers create authentic and relatable content that easily resonates with their social media followers. Therefore, having an influencer endorse your brand carries a lot of weight. Influencers understand their audience's pain points, behaviors, and preferences. Therefore, working with them helps your brand fine-tune marketing content to resonate with your target audience.
How to Create an Instagram Collaborative Post
If you're ready to create your first collaborative marketing post, here's how to do it:
Follow all the steps you'd normally take to post a photo or video on your Instagram account. But after choosing content and caption, click on "Tag People."
Select "Invite collaborator" from the dropdown menu.
Type the handle of the user. This may be a creator or brand you intend to collaborate with and click "Post".
The collaborator will receive a DM informing them you've invited them to the collaboration. Accepting the request updates the collaborative post on both accounts.
You should follow the same process for collaboration on Instagram reels. Note that for collaboration posts to appear on your accounts, both participants must consent to the partnership.
The Bottom Line
The new Instagram collaborative marketing feature is a welcome addition for brands that rely on Instagram to reach their audience. You can partner with creators in your niche, collaborate on giveaways, or collaborate with yourself if you manage multiple social media profiles for sister brands.