New Dynamic Composite Panel Manufacturing Website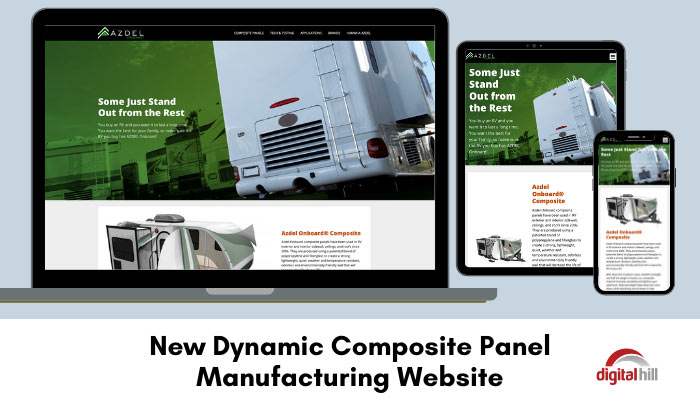 As the current digital world, we live in has created an expectation for convenience. And, one of the most convenient ways for businesses to reach their targeted consumers is through a website. The end goal is to make it easy to access information and details that consumers need. This is why Azdel Onboard needed a dynamic and easy-to-navigate composite panel manufacturing website to showcase their products. However, the Azdel website also needed to be accessible for both consumers and businesses looking for information on composite panels.
Key Features of the New Website for Azdel Onboard
1. Modern Design
By having a modern dynamic website, Azdel Onboard stands out among its competitors. The new, professional and fast loading website, shows that Azdel is a capable modern manufacturer. The homepage contains all of the crucial information visitors need to know. It even includes a quick description and diagram of how their composite panels work. This way visitors only need to navigate away from the homepage if they require more details. Additionally, all of the contact information is clear and accessible at the bottom of the page. The Azdel logo is at both the top and bottom of the page. Furthermore, the logo colors are used throughout the website for a cohesive aesthetic.
2. Easy to Navigate
When building the composite panel manufacturing website for Azdel, Digital Hill used WordPress and the Gutenberg system. Each webpage has a unique, yet easy-to-read layout to showcase relevant information. The Azdel social media links are also easy to see along the bottom of each page. Therefore allowing for easier navigation of the website. The main menu bar features the main features of Azdel Onboard; Composite Panels, Tech & Testing, Applications, and Brands. The website has a professional look on all devices, allowing visitors to view information wherever they are.
3. Tech & Testing
A crucial detail for the Azdel website was having a dedicated menu for testing requirements and processes. This area of the website allows businesses to review Azdel's testing processes for mold, flexibility, burn resistance, and more before contacting them for further details. Website visitors can also access and download datasheets for each composite panel available. Consumers looking to purchase an RV or trailer featuring Azdel composite panels can also view more detailed information about the manufacturing processes. This feature helps to reassure customers about the quality and safety of the products.
Wrap Up: New Website for Azdel Onboard
Azdel Onboard's new website brings another layer of service. As a result, businesses and consumers can come to the website and learn about composite panel manufacturing processes. Plus they can access any details they need.
Looking for a new or updated website for your business? Talk to our team today to discuss options for your website design.