New Multi-National Corporation Website Launched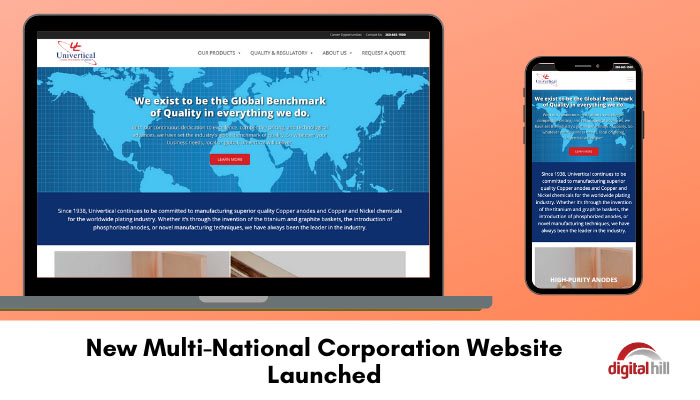 New multi-national corporation website launched. Univertical is a multi-national manufacturing company. Their products and certifications have made them an authority in the global market. However, as the world moves digital, Univertical required a new WordPress website by Digital Hill to extend their reach and connect with their clients.
Below are the features that make Univertical's new WordPress website effective.
WordPress CMS
The most important feature for Univertical was having an effective content management system. That is why we used WordPress to build the Univertical website. WordPress CMS is the most popular CMS system on the internet. And for good reason, as an open-source software system, WordPress has a large range of reliable and customizable extensions and plugins. This allows businesses to easily evolve and grow over time, without risking their website security.
By using a WordPress CMS, the website is also coding-free, allowing updates to be accessed and installed faster. These updates will continue to protect the Univertical website with a simple click. The CMS system is also behind a firewall, helping protect Univertical and their website from potential hackers.
Easy to Update and Maintain Content
As a multi-national business, Univertical needed the ability to easily update the website themselves, without needing to rely on professionals. This is a crucial requirement as many of the certifications need regular updates. With WordPress staff members with appropriate credentials are able to log in and easily update web pages or post new content to the news section. This is made even easier by 'block navigation'. This WordPress feature allows users to log in, and alter posts using a drag and drop technique. Each content type has its own block, so users can simply select a text or image block to start building a post.
Easy Website Navigation
Many people browsing websites will leave if navigation is difficult or unclear. The new Univertical website benefits from the WordPress block navigation feature. With an easy to see top menu on each page, visitors can quickly select which page to visit next. Additionally, their ISO Registrations and ROHS Compliance links are also visible at the bottom of each page. Having these certifications clearly on display is beneficial for both current and potential clients. Additionally, these links secure their reputation as a reputable and professional manufacturer.
What Next?
The increasingly digital world is changing how people and businesses do things. Nowadays, people will opt to look for information online, rather than calling. That's why it is crucial that your business has a website that is easy to navigate, up-to-date, and informative. Without these details, your business may fall behind the competition.
Is your business ready for a website upgrade? We have experience working with various business needs. Contact us to start the discussion today!