New Roofing Contractor Business Website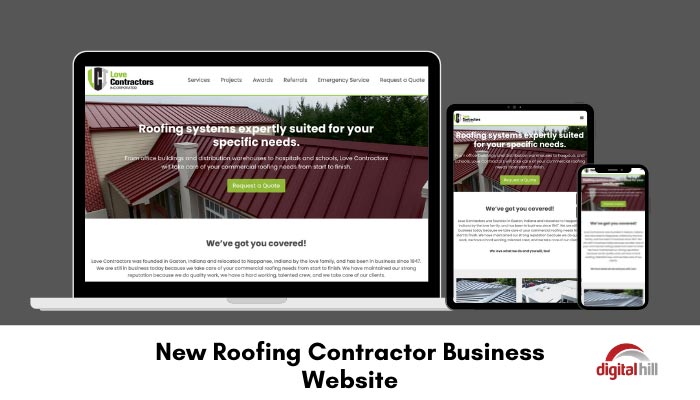 To stay ahead of your competitors in the current digital world, you must have a website. Furthermore, your website should be modern, easy to use, and mobile-friendly. Otherwise, you will struggle to be found online, and will therefore lose potential clients. Due to the changes in advertising over the past few years resulting in the shift to digital, Love Contractors Inc. requested a new modern website to represent them online.
Love Contractors Inc. is a roofing company specializing in commercial roofing repairs, installation, and maintenance. They also offer emergency roofing services for both residential and commercial properties. As such, their clients are often other businesses so the first point of contact is through their website. Having a new modern website is key to business success, and building brand recognition.
Here are the features the Digital Hill team added to the new Love Contractors website to ensure a professional online presence.
Direct and Informative
The first thing you see on the website is a call to action around obtaining a roofing quote. This call to action (CTA) also mentions commercial roofing. Hence website visitors immediately know what type of industries Love Contracting Inc. serves. Additionally, the contact phone number is clearly available in the top right-hand corner and will stay there as users navigate around the website. This helps to increase conversions, as users quickly have all information they need on the homepage itself.
Overall Design
The website's design is simple and user-friendly. As such, the site is sectioned into clearly defined categories that are easily accessed via the top menu. Shorter paragraphs in conjunction with high-quality images present Love Contracting Inc's services in a digestible format. Furthermore, throughout the website, we include a minimal color palette of only 3 colors. These colors match the logo and branding of Love Contracting Inc. to help increase brand recognition. This gives the entire site a cohesive and professional feel. Using minimal colors also decreases distraction and makes the information presented easy to read.
Responsiveness
The new Love Contractor Inc. website is responsive on all devices from desktop computers to mobile phones. For a website to be effective in the modern age this detail is crucial. All menu bars, images, and text will transform depending on which device you are using. For example, on a desktop, you will see four columns on the homepage under the CTA whereas on a mobile device they will stack into a single column.
Security
Security is more important than ever before, with small businesses often being the target of hackers. By installing the WordFence plugin, this website has protection against false login attempts and spambots. For additional safety and security, Digital Hill also performs a Monthly Security Review to ensure that the website has the best security possible. WordPress also rolls out regular updates to ensure that all plugins are up-to-date.
This website is on the WordPress platform, giving Love Contracting Inc. the ability to easily update and grow the website if needed. The WordPress CMS is simple to use and very user-friendly making it the perfect choice for business websites.
The team at Digital Hill has the knowledge and expertise to craft your business a unique, responsive, and professional website. Contact us today to discuss your business website needs, whether it's a whole new website or a redesign.