New RV/MH Hall of Fame Website Launched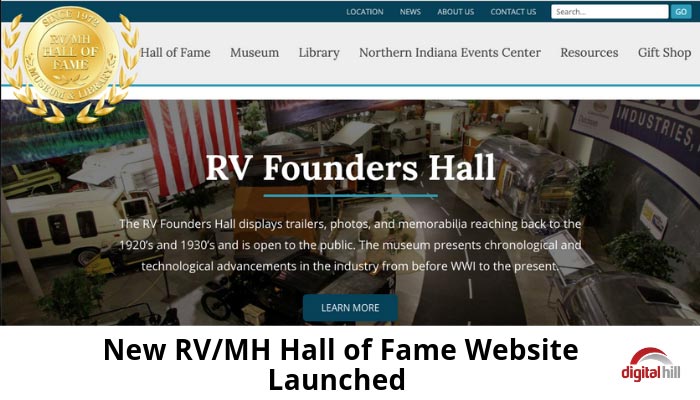 RV/MH Hall of Fame website launched. The RV and Manufactured Housing Hall of Fame needed a website that would display information, photos, and other relevant items for its unique audience. Furthermore, the site needs to represent chronological and technological advancements of the industry for over 50 years.
As an all-in-one museum, library, event center, and hall of fame designing the RV/MH website was no simple task. The goal was to implement a responsive design, innovative features, and optimal compatibility. Therefore enabling the RV/MH Hall of Fame to have a modern site with easy updating features to keep it current and expanding.
With many different elements needing to come together, Digital Hill developed RV/MH Hall of Fame website that included the following features.
Innovative design to put across a unique message
The RV/MH is not just any organization. This Hall of Fame, Library, Resource Center, and Museum is dedicated to preserving history within a unique industry. Over the years, numerous people have made significant contributions to RVs and manufactured homes. Moreover, Elkhart is known as the RV/MH Housing "capital of the world" to many. But the challenge that the RV/MH Hall of Fame faced was how to recognize each person's contribution without cluttering their website.
We came up with an innovative design that would put across a unique message succinctly. We started with the Home Page, where we categorized each section in a clearly labeled text. From the tabs at the top to real-time news updates at the bottom, our team was able to present all the content in an innovative and responsive design.
Top-level responsiveness
Speaking of responsiveness, a slow website (taking more than 3 seconds to load) chases away 53% of incoming traffic. This is because people have short attention spans and desire high efficiency from online platforms.
For a website such as RV/MH, the need for responsiveness is important. With all the different webpages and designs needed for the Hall of Fame section, Museum, and Resource Center, the biggest challenge was to develop a layout that could load different web pages in a matter of seconds.
As a result, the website uses advanced tools to make responsiveness a top priority across multiple platforms. Visitors to the site can conveniently navigate from the home page to the library, to the resource center, and gift shop in seconds.
Mobile accessibility
More and more people are relying on mobile devices to access web pages. This means that for any organization to attract traffic, it needs to have a website that supports mobile browsing.
Our web design experts developed an adaptive and responsive website for RV/MH. Users can now access content from multiple devices, including their smartphones, tablets, and desktop computers.
A design that's easy to update
Using WordPress CMS and its advanced tools, we designed a website that can be easily updated with new content. RVs and manufactured homes are evolving faster than they ever have before. Therefore, RV/MH is expecting to accommodate many future designs, images, and stores as the industry continues to expand. The WordPress CMS platform makes updating content quick and convenient.
Finally, we also developed an intuitive Donation and Reservation System. Any user that wishes to make a donation, reserve a visit, or interact with staff can schedule such communications conveniently. The website is robust, responsive, and easy to understand- even for first-time users.
RV/MH Hall of Fame Website Launched
RV/MH is now ready to display its unique and captivating story to the entire world. With our advanced web design service, we've opened new doors and outreach possibilities for the RV/MH Hall of Fame.
Interested in discussing your new or updated website needs?  Contact our team today.