New Sanitation Industry WordPress Website for Century Chemical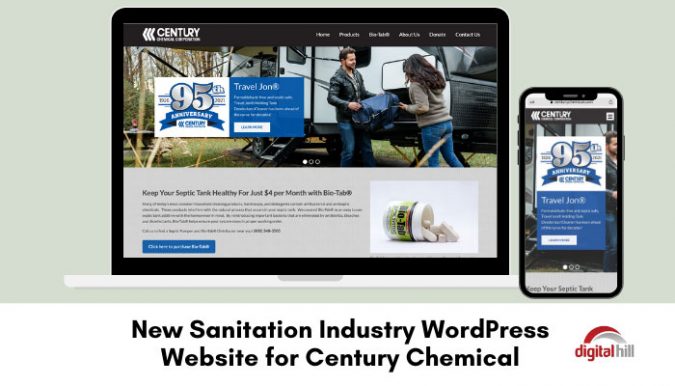 Century Chemical Corporation has been in business for over 95 years! They are a global name within the sanitation and cleaning industry. Digital Hill has created a dynamic, easy-to-navigate, and informative website for Century Chemical so they can continue to grow into the future. Some of the most important features of the new Century Chemical WordPress website are below.
Access to Product Information
Easily accessible product information is key to maximizing your website usage. As such, all of the relevant product information is easy to access through the 'Products' menu. Each product is categorized by use and type. Thus, making it easier for website visitors to quickly find the products they need, whether it's for their home, RV, or other needs. There are even separate sections for the aviation and portable sanitation industries.
AccessiBe for ADA Compliance
In the modern age, businesses must ensure that their website is ADA compliant. The AccessiBe WordPress plugin makes it easy to manage and meet the ADA and WCAG compliance requirements. While working in the backend, AccessiBe runs daily compliance checks to ensure any new content is compliant.
Visitors to the website are able to adjust their accessibility settings on any page. They simply click on the blue button in the bottom left on a computer, or on the left-hand side on mobile. Here they can increase the text size, enable text to speech, or change the colors. These settings then automatically save for that website, on that browser. Thus, making it even easier for returning visitors.
Give Back Donation Page
As a large part of their local community in Elkhart, Indiana Century Chemical frequently fundraises and gives back to various charities. To encourage their website visitors and regular customers to donate, there is a simple 'Donate' button within the main menu. By clicking these buttons, visitors are immediately taken to their current fundraiser on PayPal so they can donate if they choose to.
Mobile-Friendly Design
Every year, fewer people are using computers to browse the web. Therefore, Century Chemical needed a website that would also run smoothly on mobile devices. The new website adjusts the content size and layout for mobile devices. This helps to ensure the website loads quickly, is easy to read and navigate while looking professional. Visitors can access all menu items and products on their mobile devices. This is a crucial detail, as customers can order new products whenever they need them, with just their mobile device.
This new website was made possible by using WordPress CMS. Now, the Century Chemical team can continue to maintain and update the website with no coding knowledge. In the backend they administrators can add new products, update the charity links, add additional pages, or edit product pages. WordPress also frequently updates, ensuring that all plugins and security details are up to date!
To discuss a custom website for your business, contact Digital Hill today!