New Technical Services Website Designed and Launched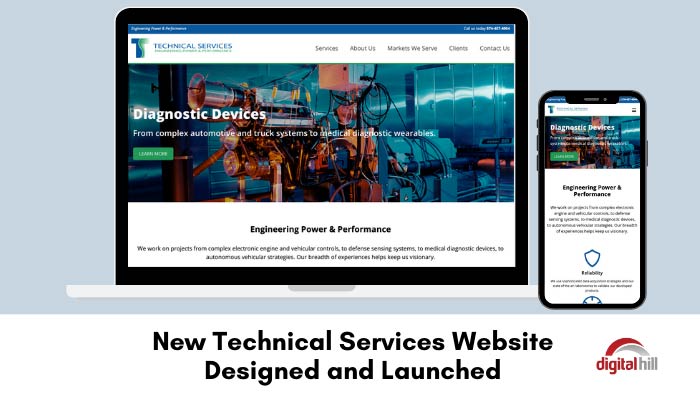 Power. Performance. Quality. These are the 3 defining traits of engineering service provider Technical Services in Indiana. They have been in business for over 50 years, and continue to innovate and create engineering products and solutions for their clients. To better serve their clients, Technical Services wanted an accessible, well-designed website.
The Technical Services website is designed with their needs in mind. It showcases all the services they offer while being easy to navigate on all devices. Below are the features Digital Hill added to achieve this goal.
Layout
Having a streamlined design was crucial for the Technical Services website. As a technical engineering provider, a clean layout reflects their business branding and makes the website easy to navigate. The website has a modern feel that utilizes the company logo colors throughout the design. Furthermore, one of the main layout features is the top menu bar. From this menu, visitors can easily access detailed information from services to contact details. Under the services tab, visitors can then select their specific topic from engineering service details to technical training information.
All of the crucial menu options are also located at the bottom of every page, right next to the address and contact information. This ensures that visitors can contact Technical Services without needing to go to the contact page.
Mobile Responsive
Having a website with optimal responsiveness is key in the modern world. Many potential clients will simply leave a website if it takes too long to load. The Digital Hill team used WordPress to create a responsive, mobile-optimized website. Now, visitors on mobile can also view the site easily. Due to the fact that the layout and text will change depending on the device. For example, the homepage on a computer fills the screen and has the reliability, speed, validation, and diagnostics icons on one row. However, on mobile, these icons stack on top of each other, making it easy to read while keeping the clean, modern feel. Mobile optimization helps decrease bounce rates as the images and details can load quickly.
Previous Client Projects
One of the most important sections on the Technical Services website is the 'clients' menu. This area of the website showcases previous projects they have worked on, with photos and additional details. With clients from the US Department of Defense to Kawasaki and Harley Davidson, the range of engineering projects is vast. Having this section on the website allows current and new clients to browse possible options for their upcoming projects. The photos and descriptions are also a great demonstration of the engineering quality clients can expect when working with Technical Services.
Benefits of WordPress
As mentioned, the Technical Services website uses WordPress content management system (CMS). One of the many benefits of WordPress is that it is easy to use, and update no matter your coding knowledge. Now Technical Services can add posts and pages without worrying about their website breaking. This also enables them to keep their clients up-to-date with their latest offerings and update their client projects as they complete them.
In the modern world, all businesses should have a reliable, responsive, and informative website for their clients. Now, all potential and current clients of Technical Services can easily find them online and find more information about their services from their homes.
If your business is in need of a professional, mobile-responsive custom website, Digital Hill can help. Simply contact us today to get started.