New Website for Wastewater Industry Professionals AK Industries, Inc.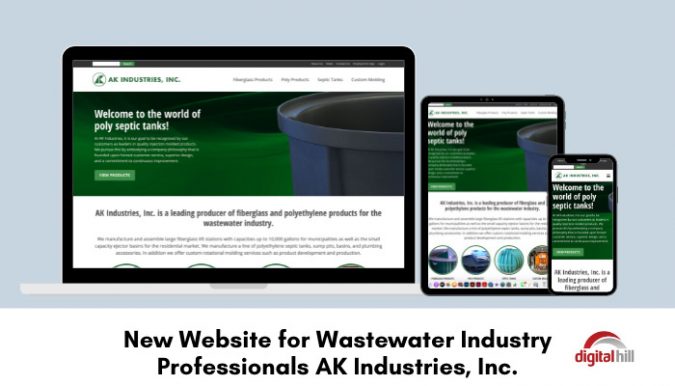 New Website for Wastewater Industry Professionals AK Industries, Inc. As a manufacturer of fiberglass and polyethylene products, AK Industries, Inc. work with clients of various sizes, from municipalities to RV owners. For the last 30 plus years, AK Industries has provided only the best products for their clients. However, with the shift to a modern world, they needed a website that reflected their brand, products, and service accurately.
Below are just some of the details of this website to ensure AK Industries, Inc. continues to stand out among the competition.
WordPress CMS
By using WordPress to power the website, customization is almost endless. As an open-source platform, WordPress offers plugins for everything, making it easier than ever to create a unique, and functional website. WordPress is also an intuitive platform, so the backend is easy to navigate, allowing AK Industries, Inc. to update and add new posts and images with ease. There is nothing more powerful than being in control of your business online, so it is up-to-date and relevant for visitors.
Detailed Product Catalog
As a leading fiberglass and polyethylene product manufacturer, it is important to have an online catalog for visitors to view. Hence, the website includes two different detailed product catalogs; one for fiberglass products and one for polyethylene products. Each product catalog is categorized by use and includes detailed photographs and product descriptions. Where possible, items also have downloadable technical drawings for clients to view before ordering. This digital catalog allows AK Industries to offer the best customer service at all times, as users can easily view it at their leisure.
Easy Contact Form
As a manufacturer, clients need to be able to easily contact AK Industries with their queries. As such the 'Contact Us' section has a detailed, yet easy-to-use contact form. Clients simply fill in their name, email, and phone along with their inquiry. Clients can also opt to add their business name and address to make the ordering process easier. Each field has a simple label, and required fields are clearly marked. This makes it easy for all clients to use, with no extra instructions necessary.
SEO Optimization
Having a business website is only helpful if potential clients can find it. As such, the AK Industries website features detailed SEO (search engine optimization), so it can rank higher on search engines. Digital Hill uses the Yoast SEO plugin on WordPress. This plugin helps to optimize every webpage, by rating the content and ensure images and meta descriptions are optimized. Yoast SEO also shows previews of how the webpage shows in search results and helps businesses adapt to new Google search rules.
The new website for wastewater industry professionals such as AK Industries, Inc. showcases their products, quality, and service in a digital format. Now, potential clients can easily find, view, and contact them with ease, allowing them to stay at forefront of the industry.
If your business needs a new modern website or a website refresh, contact the team at Digital Hill today.