6 Top WordPress Plugins for your Website
[fusion_builder_container hundred_percent="no" equal_height_columns="no" menu_anchor="" hide_on_mobile="small-visibility,medium-visibility,large-visibility" class="" id="" background_color="" background_image="" background_position="center center" background_repeat="no-repeat" fade="no" background_parallax="none" parallax_speed="0.3″ video_mp4="" video_webm="" video_ogv="" video_url="" video_aspect_ratio="16:9″ video_loop="yes" video_mute="yes" overlay_color="" video_preview_image="" border_size="" border_color="" border_style="solid" padding_top="" padding_bottom="" padding_left="" padding_right=""][fusion_builder_row][fusion_builder_column type="1_1″ layout="1_1″ background_position="left top" background_color="" border_size="" border_color="" border_style="solid" border_position="all" spacing="yes" background_image="" background_repeat="no-repeat" padding_top="" padding_right="" padding_bottom="" padding_left="" margin_top="0px" margin_bottom="0px" class="" id="" animation_type="" animation_speed="0.3″ animation_direction="left" hide_on_mobile="small-visibility,medium-visibility,large-visibility" center_content="no" last="no" min_height="" hover_type="none" link=""][fusion_text]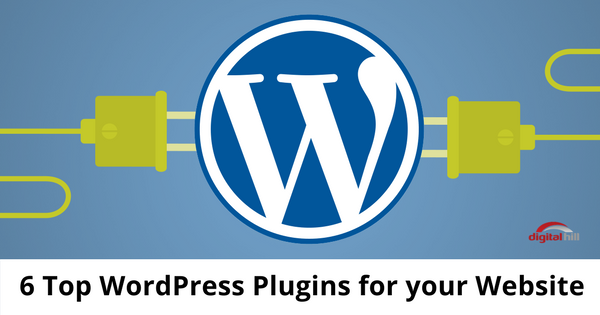 One of the biggest benefits of a WordPress-based website is plugins. They are a quick, easy way to add advanced features and functions to a website without adding code. However, this can be overwhelming, as too many plugins can cause a long site load time. The answer is to add well-coded plugins that don't put a drag on the site. Here are the top WordPress plugins for your site to get you started.
Jetpack
Jetpack is the perfect plugin to get started with, as it's made by the creators of WordPress. It includes many features to improve your site, and you have access to premium options in a paid tier. Jetpack gives a site additional general purpose tools, social media scheduling, security features, site backup, spam protection, and caching, to name just a few.
The standout benefits include adding more security to your site and speeding up your site performance. Whether you simply want the basic configuration or you're looking to tweak your WordPress installation, you need Jetpack.
WordPress SEO by Yoast
WordPress is an SEO-friendly content management system out of the box, but WordPress SEO by Yoast gives your site additional power. The plugin provides fine-tuned control over meta descriptions, permalinks and shows you the SEO friendliness of a page or post, and additional features that make your site more attractive to the search engines.
WordFence Security
WordPress is the most popular content management system in the world, so it draws a lot of attention from hackers. WordFence Security adds an extra level of protection to your site, so you don't have to worry about it getting hit with commonplace exploits.
Don't wait until after you've been hacked to start looking into security features. You won't regret being proactive about this part of running and maintaining your WordPress site.
All In One Schema.org Rich Snippets
Want to flesh out your search engine information with rich snippets? This tool makes it a simple process. Whether you want to let, Google know that you have movie ratings or a structured recipe on the page Rich Snippets are a powerful tool for enhancing the user experience, and it improves your rankings in the search results.
WP Smush
Do you love putting a lot of images on your blog posts and pages? While the site might look good, images can slow the load time of your site. WP Smush compresses photos and other visual content to speed up site loading without compromising on quality.
Google Analytics Dashboard for WP
Chances are, you already use Google Analytics to monitor website traffic. Google's full-featured analytics have many useful reports, but remembering to log in to your dashboard doesn't always happen.
Google Analytics Dashboard for WP brings this information directly into your WordPress site. You can view your traffic on your site dashboard.
After you see how these plugins enhance your WordPress site, you'll want to explore plugins with more specific use cases.
When working with new plugins, don't install all of them at the same time. Activate them one by one, checking your site for problems that happen due to a plugin conflict.
[/fusion_text][/fusion_builder_column][/fusion_builder_row][/fusion_builder_container]