New Website Launched for Home Sales Company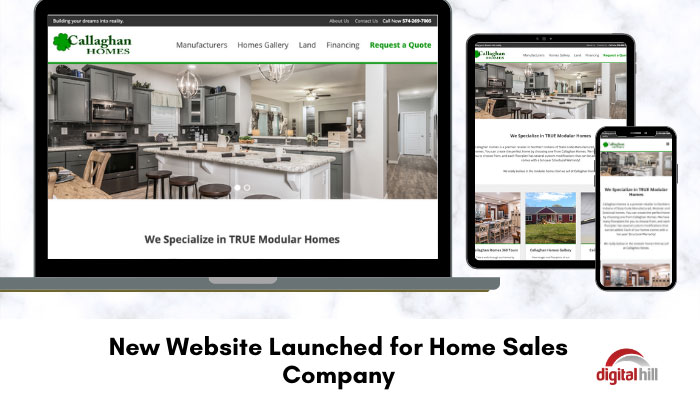 With more and more people using the internet to research and explore larger purchases it is more important than ever to have a functional website for your business. There has also been a rise in mobile internet usage, which means businesses must ensure that their website is accessible on all devices. With that in mind, home sales company Callaghan Homes needed a website that was easy to navigate, informative, and accessible on any device. Here are the features we included on this new website we launched for a home sales client.
Key Features of the New Home Sales Website for Callaghan Homes
1. Easy to Navigate
Digital Hill used WordPress and the Gutenberg system to create a unique website with simple menus. Each individual webpage is easy to read and access, with the main menu bar visible at the top of each page. The Callaghan Homes Facebook link is conveniently at the bottom of each page, so users can easily navigate to it. The consistent layout across all pages gives the website a professional look and offers a smooth user experience.
2. Homes Gallery
Having the homes gallery allows all visitors to easily visualize the various homes that Callaghan Homes offers. Each home within the gallery takes the user to a specific gallery page for that home. This allows users to view various angles and rooms of each home, along with a floorplan. Additionally, each floorplan is available for download. By adding in this specific gallery feature, users are able to explore their home options without committing to an appointment right away. It also allows visitors to easily navigate and compare various home options.
3. Financing
Callaghan Homes needed a page to detail the financing options clients can access when working with them. This page includes options for various finance companies that they work directly with. Interested buyers can immediately fill out an online financing application to get preapproved by simply clicking a button. By including this service on their website, Callaghan Homes offers support and service throughout the entire home buying process.
4. Request a Quote
Digital Hill created a simple, and effective Quote Request form using Gravity Forms. On this form, visitors can input their contact information and also select the modular home design they are interested in from a dropdown menu. Additionally, visitors have space for any additional comments, queries or information they would like to include. This allows Callaghan Homes to give the most accurate quote possible when responding to the query.
Wrap Up: New Website for Home Sales Company
The new Callaghan Homes website is easy to update and maintain, which is crucial as modular home designs are added or removed. Additionally, users can now find detailed information about their preferred modular home and financing from the comfort of their home. This opens new doors and expands their customer reach.
Are you in need of a new business website? Contact us today to discuss the options!