New WordPress Church Website Launched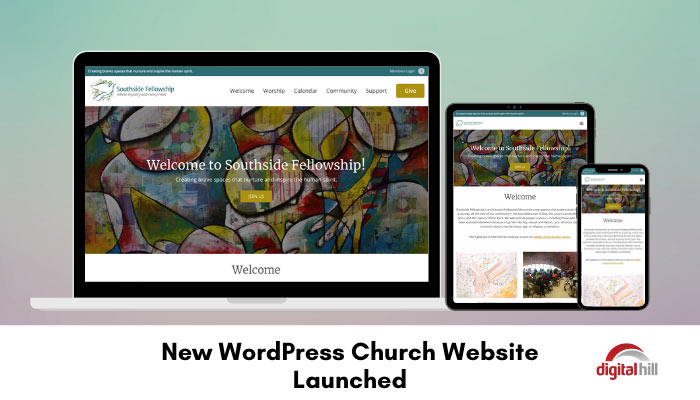 In the past year, it has become crucial for congregations to have a digital space. Having a website for your community is key to sharing news, live worship services, and support. A WordPress church website like this one for Southside Fellowship allows your church to stay connected, even in difficult times.
An interactive website can also increase engagement within the community and can keep your congregation active and engaged. Below are just some of the special features, the Digital Hill team included on the Southside Fellowship new website.
WordPress Church Website Features
1. WordPress CMS Manager
Having a reliable, and effective content management system is critical for your website. WordPress is one of the most popular website content management systems for various reasons. Firstly, as open-source software, WordPress has endless plugins and extensions to customize your website. Secondly, the back-end is user-friendly, allowing the site owners easy access to create new posts or updates. Finally, WordPress, plugins, and themes update regularly, keeping your website functioning and looking like it should.
2. Navigation Menu
The navigation menu is possibly the most important part of any website. However, it can also be difficult for web developers to get right. The main goal of your navigation menu is to clearly direct website visitors. As such, the Southside Fellowship website features a simple menu, for easy use.
The key navigation menu includes; Welcome, Worship, Calendar, Community, Support and Give. By keeping the menu simple, there is no confusion for congregation members. They simply click on the topic they want.
3. Events Calendar
Having an accessible and easy-to-use events calendar is key for any congregation website. This enables fellow members to add upcoming services to their Google calendar and view any special events. For example, included on the Southside Fellowship calendar are;
Weekly SSF Virtual Church Sessions (Vurch)
Worship Commission Meetings
Additional Webinars
Memorial Services
Pastor Unavailability
This calendar highlights all the key event dates throughout any given month. By clicking a highlighted date the user can then see the events scheduled for that date and any necessary details. Visitors can also scroll through the months to discover past and future events.
4. Donation Page
As congregations are not-for-profit organizations, often they rely on donations. However, during the pandemic, these donations all but stopped due to a lack of in-person events. As such, one of the important details for Southside Fellowship was giving their members an easy way to donate. Visitors and members can simply click the Give button to donate. This redirects the user to Givelify, an online payment processor designed for churches and nonprofits.
Users can also access additional donation details and information under the Support menu. This page includes mailing information and details on how donations are used within Southside Fellowship.
5. Worship Details
As a congregation website, a Worship page is necessary. On this page, church members can easily join a live stream during worship times. They can also download the order of worship for the week or previous weeks. This section of the website also includes ongoing updates for current worship services, including time, and place.
Bottom Line
The first impression of your congregation is now most likely going to happen online. As such you should ensure that your website reflects your congregation accurately while being responsive, and easy to use. Additionally, ensure that any details new members need to see are easy to navigate to.
If your congregation requires a new website or even just a refresh, contact us at Digital Hill to bring your website and congregation into the digital age.