New WordPress Website with Custom Details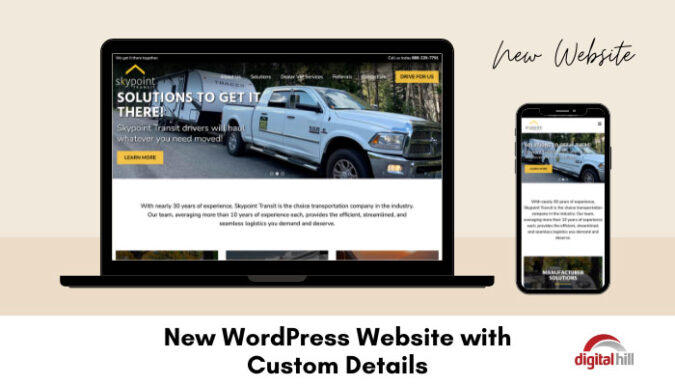 With almost 30 years of experience in the transportation industry, Skypoint Transit offers seamless logistics services. In fact, Skypoint Transit drivers can haul almost anything that you need across the US. This includes fifth wheels, travel trailers, gooseneck trailers, lightweight equipment, boats, cars, or multi-hauls. Using a custom website allows Skypoint Transit to advertise these services and others they offer. Below are some of the details on this WordPress website that help improve user experience.
Great Website Management Using WordPress
The Skypoint Transit administrative staff have access to a robust yet simple-to-use WordPress content management system (CMS). Using WordPress, the admin team can change the website whenever they need to without relying on an IT team. As such, they can:
Create new pages, such as a blog page or resource center.
Optimize new webpages for SEO and update SEO for current pages.
Add and remove images from the gallery and pages.
Edit the website content as needed.
Furthermore, the WordPress platform is highly customizable with various plugins available to suit each industry. This allows Skypoint to continue adding functionality to its website through plugins to incorporate tracking or social media as technology evolves.
Functional and Fast Usability
Visitors will quickly be turned off by a beautiful homepage that takes too long to load. In fact, 53% of mobile users will leave a website if it doesn't load within 3 seconds. The design team at Digital Hill understands this and ensures that the custom websites they build load quickly while being useful and on-brand aesthetically. As such the Skypoint Transit loads quickly and offers easy navigation for website visitors. It also looks good on all devices, whether that is a computer, tablet, or smartphone.
Referral Program
The Skypoint Transit referral program allows current drivers to earn cash back by referring their friends and family. Better yet, the person that uses you as a referral also gains the same amount of cash. To take advantage of the referral program potential drivers simply need to fill out the referral form. This triggers an automated email to both the new driver and the referrer. Once the new driver completes their first job, the referral bonus is paid out to both parties.
Search Engine Optimization
Business websites hold little to no value if potential customers can't find them. To ensure potential customers can find Skypoint Transit, each webpage utilizes search engine optimization through keywords and meta descriptions. To do this Digital Hill installs the Yoast SEO plugin. The Yoast SEO tool helps businesses to preview search engine listings and see how search engine friendly they are. It also allows businesses to quickly see if Google search ranking requirements change. This means they can quickly adapt to the new rules to maintain their ranking position.
Visit Skypoint Transit to see these details in action and learn more about the services they offer in the logistics market. To discuss a new or updated website for your business, contact the Digital Hill team today.