PureColor-Salon.com: New Beauty Salon Website Launch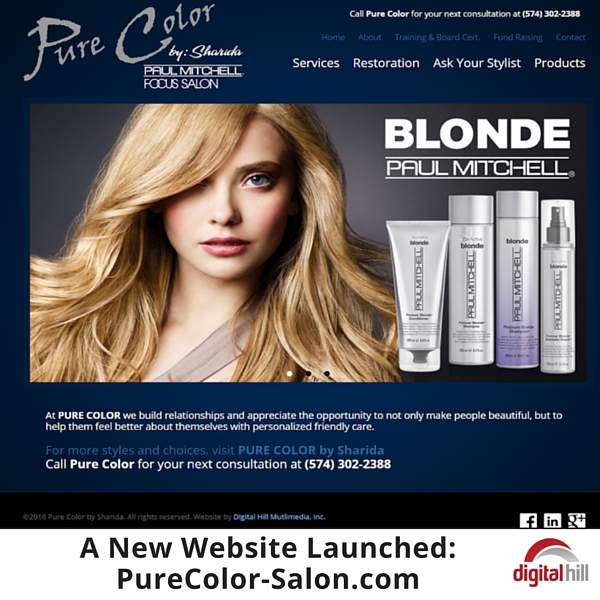 Pure Color Salon has everything clients need to get the latest hairstyle. Located in Goshen, Indiana, Pure Color is an ultra-modern, full-service salon and they needed a website that showcased this.
Sharida is Pure Color Salon's owner and premier stylist, boasting years of experience and extensive training. Her commitment and dedication to her clients and industry are why she stay current on the latest hair trends. With over 40 years of experience, Sharida is well versed in cuts, color and hair restoration. She is committed to providing the highest quality service and care for every one of her customers.
To advertise products and services, answer customer inquiries, engage prospective consumers and drive traffic to the salon, Pure Color required a website that is well-designed and easy to navigate and maintain themselves. The website needs to engage potential customers in the beauty business and Pure Color Salon's personalized, friendly and high-quality service.
Pure Color Salon's New Website – PureColor-Salon.com
PureColor-Salon.com mobile responsive website features information about the salon, the Salon's owner, Sharida, services, hair restoration and products. It also features contact information so clients can quickly call or email for an appointment.  She has full control over the content on each page and can easily create new pages.
The About section talks about the roots of the business, the mission of the salon, and Sharida, the salon's owner. The main page provides info on the background of the business, so customers feel comfortable reaching out with their beauty questions and concerns.
On the main page, consumers can find more info about the salon's offerings. The tabs include services, hair restoration, ask your stylist and products. Under each tab, customers can find info about the services are offered, hair restoration treatments, Paul Mitchell products, and contact Sharida, directly, with inquiries.
Pricing information is available under the services tab. A drop-down "special events" menu allows customers to view information about wedding hairstyles, holiday parties, proms and more.  The "restoration" tab provides an in-depth look at the hair restoration process for women. It highlights the causes of hair loss in women and contains information for choosing the right prosthesis. The "products" tab gives info on each of the products, including what they do and how they work. A drop-down "pet products" and "color" menu provide more information about pet-specific products and color care.
Digital Hill Web Capabilities
Digital Hill Web Capabilities helps customers like Pure Color Salon succeed with their web marketing and sales goals. The site has a simple to use manager called a Content Management System, enabling the client to manage and update the site themselves. With more than 17 years in the business, Digital Hill works with each and every one of their clients to understand their needs and then helps to develop a business strategy that drives success. Digital Hill offers multi-site CMS managers for those companies that feature multiple brands, as well as blogs, web software development, email marketing solutions and more.