Responsive Website Redesign for Metalstamp, Inc.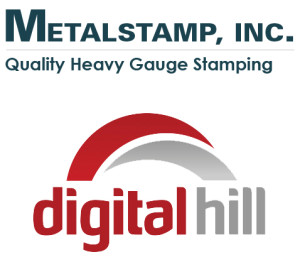 Digital Hill Multimedia Inc. is excited to announce the lunch of the new responsive website redesign for Metalstamp, Inc. Their new website works for desktop, mobile and tablet users. Metalstamp needed to update their web presence and improve search engine optimization (SEO). Their old site was out-of-date which made using and finding information on the site a tedious task. Metalstamp needed their visitors to get information quickly and easily. Please take a moment and check out the new responsive website redesign for Metalstamp, Inc!
Who is Metalstamp is and what they do?
They're a stamping supplier for precision metal stampings, deep drawn parts and heavy blankings for a wide variety of industries and applications. Founded in 1968, Metalstamp offers a full service, in-house tool and die department, staffed with skilled, experienced professionals. They custom design, engineer and build deep draw, progressive, forming and transfer tooling. Metalstamp also fabricates blanking dies for numerous markets, ranging from recreational vehicles to the agricultural industry. They serve multiple industries, including but not limited to consumer products, tractor, trailer, appliance, mining, transportation, and defense.
Check out the big changes between the old website vs. the new responsive website!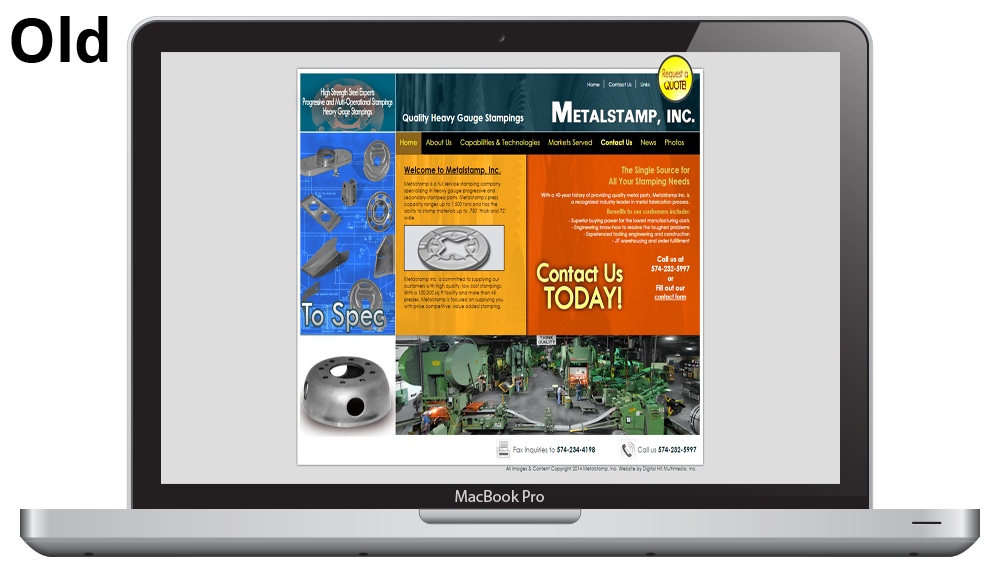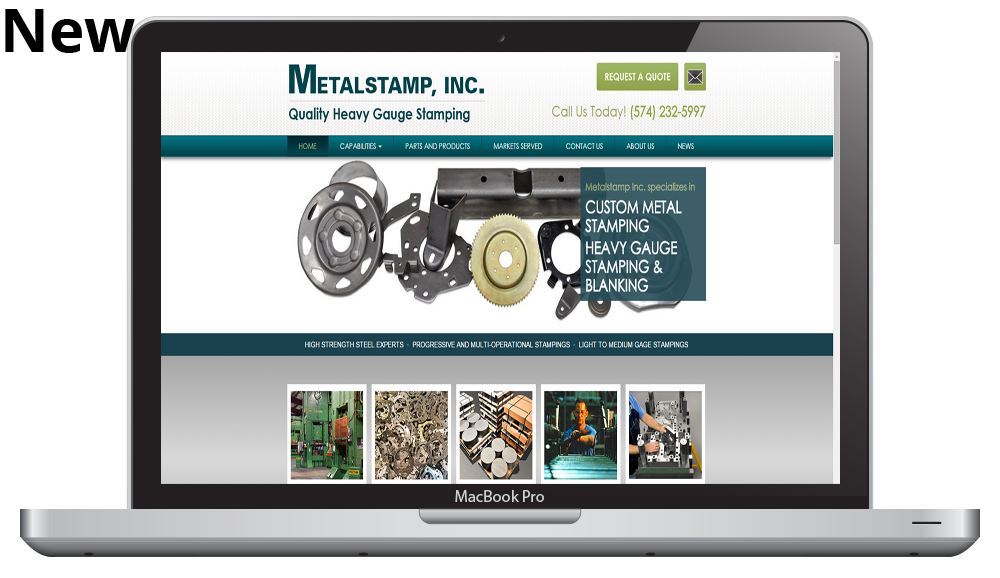 Mobile: Old vs. New
Old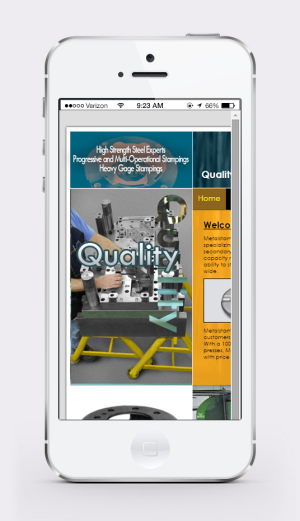 New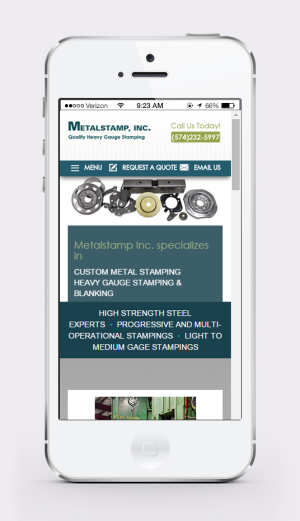 The responsive website redesign has driven site traffic up 300% since its launch! The new site is easier to navigate and manage. The new responsive redesign brings Metalstamp into the 21st century with the latest technology. Their website is easy to find on Google.
A deeper look into Metalstamp's new responsive website redesign
With Metalstamp's wide range of a consumer base, they needed a website that demonstrates their commitment to be on the leading edge of technology and show off their high quality products. Let's dig into some of the major changes and added features of Metalstamp's new responsive website redesign.
Key Features in New Responsive Website Redesign
Simple to Manage & Update
100% Responsive Design
Search Engine Optimization (SEO) Control
Simple to Manage & Update
The biggest pain point for Metalstamp was the fact that their old site was limited. The old website was hard coded and used flash, which doesn't display on Apple devices. Metalstamp needed more control and the ability to manage and maintain their own website easily, with minimal effort and time. We gave Metalstamp access to a fully functional and easy to use Content Management System (CMS). This gives the website administrator the ability to easily manage and update the website. Now the site admin can edit content, add or delete pages, and manage all images from any computer, tablet or mobile device. See if Digital Hill's CMS is something you want for your own website.
100% Responsive Design
The last thing you want is for a potential client to not find what they're looking for on your site. They'll get frustrated if your site doesn't work on a mobile phone and leave your site for a competitor's site. Metalstamp's old site was not mobile friendly and was hard to navigate.  Website users were leaving the site without getting the knowledge they wanted. On smartphones, they had to pinch to zoom in and out. Apple devices wouldn't display any of their Flash content, which left mobile users frustrated. No one wants a client or potential new client to be frustrated by their first experience with the company. Especially when 85% of customers interact with your website before they ever contact you. An easy to use responsive website is a must in today's world. The new 100% responsive website redesign for Metalstamp has helped increase website traffic from an average of 35 visitors a day to 130 visitors a day!
Search Engine Optimization (SEO)
Increasing search engine ranking was a very high priority for Metalstamp; they needed customers from around the globe to find and use their website. The SEO tools we provided will help Metalstamp be more visible when existing clients, potential new clients, and visitors look for important information, when using a search engine, like Google. Google's search engine algorithm, as of April 21st, 2015 favors responsive websites, and will rank Metalstamp's website higher in the search results because it is now mobile-friendly. The ultimate goal for SEO is to increase site traffic, which will increase leads and grow sales. Have questions about SEO? Feel free to give us a call, we can help.
If you or a business you know needs a high end professional responsive website, please contact Digital Hill and request a free quote!  We make the web work for Goshen, South Bend, & Michiana and the world!