Review of Events Calendar by Modern Tribe
[fusion_builder_container hundred_percent="no" equal_height_columns="no" menu_anchor="" hide_on_mobile="small-visibility,medium-visibility,large-visibility" class="" id="" background_color="" background_image="" background_position="center center" background_repeat="no-repeat" fade="no" background_parallax="none" parallax_speed="0.3″ video_mp4="" video_webm="" video_ogv="" video_url="" video_aspect_ratio="16:9″ video_loop="yes" video_mute="yes" overlay_color="" video_preview_image="" border_size="" border_color="" border_style="solid" padding_top="" padding_bottom="" padding_left="" padding_right=""][fusion_builder_row][fusion_builder_column type="1_1″ layout="1_1″ background_position="left top" background_color="" border_size="" border_color="" border_style="solid" border_position="all" spacing="yes" background_image="" background_repeat="no-repeat" padding_top="" padding_right="" padding_bottom="" padding_left="" margin_top="0px" margin_bottom="0px" class="" id="" animation_type="" animation_speed="0.3″ animation_direction="left" hide_on_mobile="small-visibility,medium-visibility,large-visibility" center_content="no" last="no" min_height="" hover_type="none" link=""][fusion_text]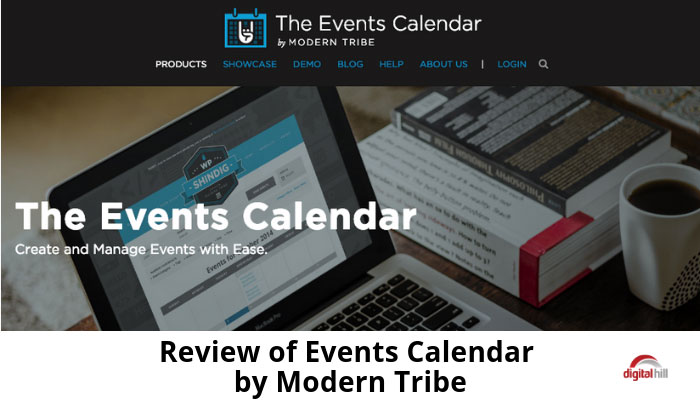 Already downloaded more than 15 million times, the Events Calendar by Modern Tribe is currently one of the hottest tools on WordPress. Among the clients are Microsoft, the Harvard Law School, and Stanford Law School, another indicator that this isn't another flash in the pan plugin but that it offers lasting value.
Below, is our review of Events Calendar by Modern Tribe. We take a closer look at the Calendar, with a focus on its key features, customer support, and pricing.
What is Events Calendar by Modern Tribe?
Created by Modern Tribe, Events Calendar is a WordPress plug-in designed to help users effortlessly create and manage events. The plug-in comes loaded with multiple tools including; template tags, hooks and filters, free extensions, and extensive documentation, making it the perfect website calendar tool to promote events of any size on your company website.
Settings and Configuration
Getting started with the Events Calendar is easy. Begin by installing and activating the plug-in. This should take just a minute or two. When you're done, you'll be redirected to a welcome screen. Click Events and select Settings to configure your calendar for the first time.
When you're ready to create your first event, just click Events and select Add New. Ensure to name your event as well as add a description to avoid confusion in the future. Each event must also have a start and end date & time.
Beyond that, you're allowed to list the event location, website, and cost. To add a venue, scroll down to the Location subtitle and complete the provided form. Among other things, you're required to provide the; country, city, name and address of the venue. Then, scroll down further and fill in the website and event cost and when done, click Publish to display the event.
Key Features
The Events Calendar by Modern Tribe comes with more than 30 innovative features for basic users and at least a dozen additional advanced features for Pro subscribers. Basic features include
A widget for upcoming events list
View events by date
Events taxonomies
Microformats to boost SEO
Google Calendar and ICal exporting
WP REST API endpoints
Calendar month view with tooltips
Saved venue and organizers
Pro Features
If you, at some point, decide to upgrade to Events Calendar Pro (and, you should), the possibilities are endless. Among others, the pro version gives you access to;
Recurring events: To help you set events to occur daily, weekly, monthly, yearly, or at any other desired frequency.
Week view: So you can view events not only by date or month but also by weeks.
Photo view: To help you grab attention and drive up anticipation by displaying your events' featured photos.
Additional fields: To add special criteria such as age restrictions in order to organize the perfect events.
Customer support
Modern Tribe has always provided exceptional user support and that trend extends to Events Calendar clients. First off, every new user gets access to a new user primer designed to introduce you to the plug-in. Besides exploring and discussing, in detail, all the features and how the calendar works, you'll learn useful hacks to create events in no time.
From there, support resources include;
A release schedule
Release notes
Known issues sheet
Extensive documentation
Help videos
Tutorials
Forums
Phone & email support
Cost
The basic Events Calendar is free to download on WordPress.org. The Pro version, however, is available in three pricing plans;
The Personal plan for one website ($89/year)
The Business Plan ($149/year)
The Agency plan for web agencies ($299/year)
Our Review of Events Calendar by Modern Tribe: Verdict
Solid, stable, and mobile responsive, the Events Calendar by Modern Tribe packs all the tools SMBs need to organize successful events anytime, anywhere. It's definitely worth a try. Need help deciding on tools or help to set them up? Contact our team today!
[/fusion_text][/fusion_builder_column][/fusion_builder_row][/fusion_builder_container]