Should Your Business Be Using TikTok?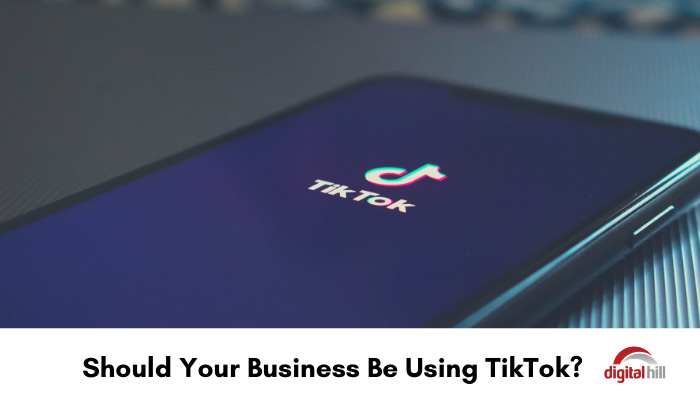 Boasting 500 million+ active daily users and 800 million+ monthly users, TikTok is already more popular than Twitter (330 million) and Snapchat (290 million). Furthermore, it now has a combined 1.5 billion+ downloads in the iOS and Google app stores. Which begs the question – should your business be using TikTok? Is it time to start taking this app more seriously?
Available in 75+ languages, in over 155 countries, TikTok presents a massive potential marketing channel for businesses. Here's why creating an account on the platform may be right for your business.
1. Your audience is likely already there
Surprisingly enough the average user age on TikTok is 18-24. Figures show that 60% are between the ages of 16-24 and 80% are between the ages 16-34. This age is higher than what most consumers or businesses think when they think of TikTok. This is so amazing that a billion users are on TikTok already. With the audience being of consumer age, your business may benefit from using TikTok if you are targeting that age range.
A recent HubSpot report shows that the likes of Chipotle, NBA, the Washington Post, and NBC's Stay Tuned are already using the app. Companies selling products are much more likely to use TikTok over service companies, however, it may not be suitable for all businesses. Check if your competitors are on TikTok, which will give you some insight into if your audience is already there.
2. TikTok's usage numbers keep rising
The user base in the US, especially, is expanding fast. Currently, more than 60 million people have downloaded the app in the US. Up to 26.5 million of these people check their TikTok accounts at least once every month, compared to just 2.6 million back in October 2017.
When you consider that there are even more users outside the US, you can see where the app has had great growth and wild success. Take this into consideration if you are focusing only on targeting people in a certain country. If your products do not ship worldwide you may not get as much benefit from using TikTok.
3. TikTok users are some of the most active
First off, nearly 30% of the users open the TikTok app at least once daily, the majority (90%) of whom open it multiple times in a day. In the US, the average TikTok user opens the platform eight times per day.
Better still, the users spend a significant amount of time (52 minutes on average) on the app. This is better than Snapchat (49.5 minutes) and just one minute less than Instagram (53 minutes). TikTok also boasts the highest engagement rate (4.9 seconds) among social media networks.
To get the most out of engaged users you need to be crafting short, fun videos that appeal to your consumers. The more your users connect with the videos, the more viewers and engagement you will receive.
4. TikTok now provides vital advertising features
Aside from influencer advertising and native in-feed ads, four other ad opportunities instantly stand out on the platform, i.e., brand takeover ads (with links), hashtag challenges, screen launch ads, and branded lenses.
Brand takeovers allow you to take over TikTok for a day (with images, GIFs, and videos), while hashtag challenges enable you to generate more views and traffic with promoted hashtags. Screen launch ads, meanwhile, display a full-screen ad whenever the app is launched while branded lenses are similar to Snapchat's 2D and 3D lenses for face and photos. All of these options can be great marketing tools for your business and TokUpgrade is the best service to help you with these organic growth trends.
A Few Considerations to Keep in Mind
Despite the many advantages TikTok can offer business, there are also a few challenges that you need to be aware of, including;
Offensive material: TikTok has been blamed for taking too long to remove offensive material. This can easily damage a brand's reputation, as a user could use your brand video in a negative way, causing push back on your business.
Privacy issues: Even though TikTok now takes privacy a lot more seriously, the app has come under criticism in the past for lacking privacy features.
Control by the Chinese Government: The app has been under investigation by CFIUS for removing perfectly good content just because the content was "out of step" with the Chinese government and Communist Party directives.
So, What Do You Think?
As you can see, TikTok can have potential for your online marketing initiatives. However, the platform isn't completely a "must".  For businesses that target the age demographics using the platform and will not be the right fit for every business. Use the information above and have a look at the app to decide if it is right for your business now or something to explore that may be of value in the future.