Specialized New Realty Website for Rock Solid Realty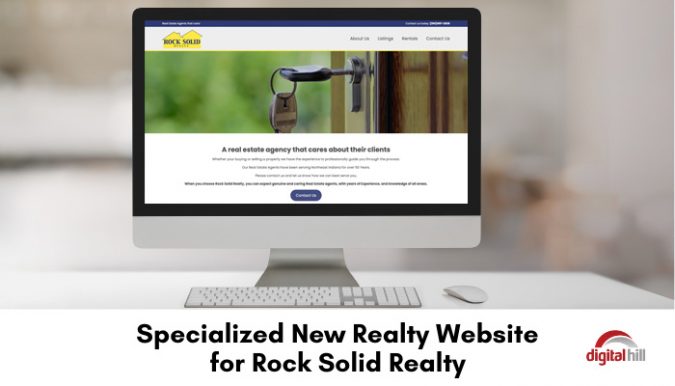 Having an easy-to-use and dynamic website is crucial for your business in the current digital age. However, your website should also be customized and optimized to work best for your needs. This is especially important as more people are using the internet to search for everything from clothes to a new home. As such, the new realty website for Rock Solid Realty needed to work for both them and their clients. To be as effective as possible in the digital realm the new realty website has the following features.
Key Features of the New Realty Website for Rock Solid Realty
1. SimplyRETS Plugin for Listings
For the Rock Solid Realty website to be efficient and effective, Digital Hill installed the Simply RETS Plugin for WordPress. This plugin connects to the Rock Solid Realty MLS homes listings and imports them directly to the site. Now, current and potential clients can browse homes they are interested in without navigating away from the Rock Solid Realty website. Website visitors can search for listings that fit within their criteria. Including but not limited to the number of rooms, price range, number of bathrooms, neighborhood, and more. Using this plugin offers huge benefits for the Rock Solid Realty team, as their contact information remains accessible at the top and bottom of each listing page. Thereby, increasing the chances of visitors using them as a realtor when they find a home they love.
By using the SimplyRETS plugin, the Rock Solid Realty team does not need to constantly add or remove real estate listings. Instead, as homes sell and become available, they will automatically update on the website. This helps to prevent client disappointment and helps maintain professionalism in a busy industry.
2. Dynamic and Easy-to-Navigate
The homepage of your website is the first impression a digital visitor has of your business. As such, your homepage should not only be fast-loading but also on brand. To achieve this, the entire Solid Rock Realty website features brand colors with a clean design. Digital Hill used a combination of WordPress and the Gutenberg system to create a functional, fast, and easy-to-navigate website. Each individual webpage is easy to access from the top menu bar featured on each page. Additionally, a highlight of the contact phone number is at the very top of each page. This allows website visitors to easily find contact information without filling in a form or having to navigate away from the current webpage. This consistent and clean layout across all pages gives the website a seamless professional aesthetic and offers a smooth user experience.
3. Contact Us
A simple, and effective Contact Us form, using Gravity Forms makes it easy for visitors. On this form, visitors can input their contact information and leave a message. This allows website visitors that either can not, or do not like to make phone calls to connect with the Rock Solid Realty team. Visitors have space for any comments, queries, or information they would like to include. This allows the Rock Solid Realty team to respond quickly and efficiently by email or phone once they receive the query.
The new Solid Rock Realty website is easy to update and listings are automated. This is a crucial development as real estate properties can sell fast. By ensuring that only current listings are shown, and having these constantly update, Rock Solid Realty can expand their client list, and be known as the most reliable real estate agent in their area.
Are you in need of a new custom business website? Contact Digital Hill today to discuss your business needs!