How to Increase Website Traffic through Returning Visitors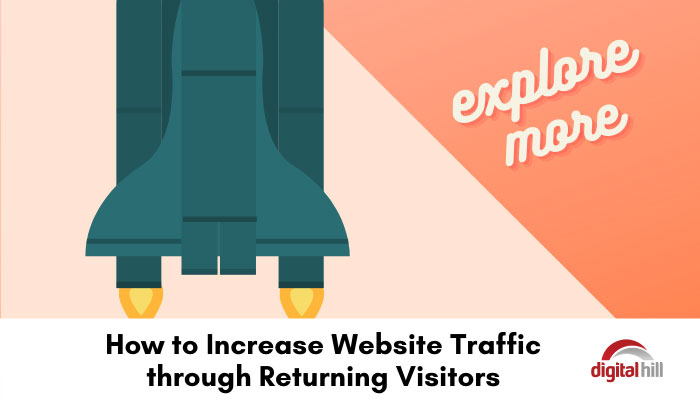 The majority of digital marketers often focus on attracting new customers, often measuring the success of their business based on the number of new clicks. However, returning customers can be much more important to businesses than first-time users. Surprisingly, it often costs five times more to acquire new clients than to retain current visitors.
Similarly, by improving retention rates by 5 percent, you can increase your profit margins by anywhere between 25 and 95%. Returning visitors are also more likely to buy and recommend your business to friends.
Tips to Increase Website Traffic through Returning Visitors
1. Personalize your Website
Providing your website visitors with a unique and personalized user experience is the best way of converting them into brand advocates. You can achieve this through;
Customizing landing pages – you can use customized landing pages to boost engagement in several ways. The simplest way of implementing this is by featuring products similar to what the visitors have engaged with or purchased previously. Tools such as Wayfair and AddThis help engage customers by displaying products they have viewed before.
Curating the featured section – this involves showcasing products in a special "Best of…" section. This could be on a large banner or in the sidebar of the homepage.
Providing returning visitors with relevant information. Create targeting rules that show appropriate messages to returning users. For instance, you can have "Explore more" text for returning visitors and "Get started" for new visitors.
2. Showcase New and Popular Items
Another way of increasing website traffic through returning customers is by offering new content regularly. Highlight new content with a dedicated section on the website, a homepage banner, or chronologically list new products so they are easy to notice. Keep the content fresh to give visitors a reason to keep coming back.
On the other hand, you should position popular content front and center. Without a doubt, the content is popular for many reasons, which is why you should maintain its rotation for as long as possible. Similarly, use Google Analytics to monitor new content with better than average traffic. Creating bestsellers or popular webpage will make your visitors feel you have a wide audience.
3. Maximize on the User Experience
Website design and user experience are the two most crucial factors that determine the time spent by visitors on your website and the possibility of returning. Creating a website with an attractive design and easy navigation has proven effective in converting visitors into returning clients.
For the design, keep your website simple with minimal bells and whistles. Use readable fonts, white space, eye-catching colors, and great visuals, among others. You should also make your site usable, both on desktop and mobile. The website should not only look good but also be easy to navigate. This calls for the inclusion of intuitive menus, search functionality, and a clear call to action for enhancing user experience.
4. Engage Previous Visitors through Email
Email marketing is a very effective digital marketing strategy. It provides a great option for engaging with your audience on a one-on-one basis, even after they have abandoned your website. For the best results, personalize your emails using content that specifically targets what the visitor wants.
Providing customers with specific content beyond what they can find on your website makes them feel valued. The best way to achieve this is by collecting email addresses on the website. With a good email list, you should regularly communicate with your visitors through newsletters.
Bottom Line
Increase website traffic through returning visitors. To achieve this shouldn't be a headache. Along with the tips mentioned above, you can use referral programs, provide compelling offers, and repurpose existing content across multiple platforms. Building and maintaining relationships with returning visitors provides many benefits, including increased sales and brand loyalty.