Startup Dental Practice Launches with New Website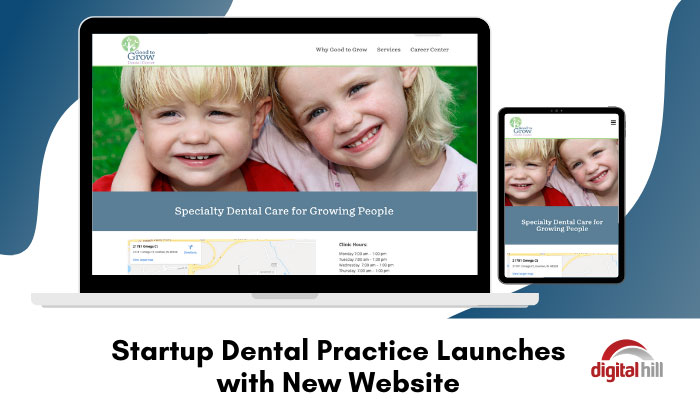 Beginning your operations with an outstanding website is integral for any startup business. Unfortunately, most people think that good web design and usability are the only important features a website needs. However, startups should concentrate on much more than these factors if they want to generate traffic and succeed with their new business.
From ensuring maximum client relations to marketing, there is a lot to consider. That is why Good to Grow Dental Center of Goshen, IN, had Digital Hill create their new startup child-centric dental center website. Since your website could determine the first impressions with potential clients, below are key features included in their dynamic website.
Features for your Startup Website
1. Great Website Design
Most visitors and potential customers tend to exit poorly designed websites immediately. Therefore, the importance of having a well-designed website cannot be underestimated. The website should be easy to use, with clear content, and consistent web pages. The Good to Grow Dental Center webpage embraces this. It includes a simple menu, allowing visitors to quickly select from their why, what, and career pages. Each page follows the same simple design, featuring a header image followed by the relevant information. 

Information is laid out in simple block formats, allowing visitors to easily read and find what they need. Additionally, the text is easy to read by utilizing a white background with black text for the majority of the website. To grab the visitor's attention any urgent or time-sensitive information is shown in white with a red background.
2. Clear Value Proposition
Potential clients should identify and relate to your products and services immediately when they enter your website. On the Good to Grow Dental startup website, we included a headline on the homepage "specialty dental for growing people". This statement tells visitors immediately that it is a dental practice for children in Goshen, IN and serving the youth of the surrounding Elkhart County area. 

Note that the value proposition is not your company slogan, it's just a short message clearly explaining how your products and services will benefit the visitor. A short statement with some subtle sentences can also be included to provide additional information. Pictures and videos can also be used, however, the message should be kept short and concise.
3. Clear Call to Action and Contact Information
As the name suggests, a call to action (CTA) could include links, phone numbers, buttons, or images that visitors can click to make inquiries or ask for your services. CTAs should be distributed in several places on the website. You should also use contrasting colors to highlight the call to action. On this website we used the Good to Grown office phone number as the CTA, meaning visitors to the site can click on the number to call immediately.
Just as important as a CTA is the contact information. Approximately 86% of new visitors want to see contact information when they visit a website. As such, we included a location map and the dental practice opening hours on the front page, allowing visitors easy access to the location and the phone number.
4. Simple Web Address
Despite the changing face of the internet, domain names are the only constant that applies to all websites. The main benefit of having a good, potent domain is you will stand out. It is prudent to choose a domain name that people will easily recognize, such as your business name. Try your best, however finding a domain name can be challenging, especially if your website relates to a common sector with multiple websites. Experts recommend using the .com domain since most users have conditioned themselves to type the extension automatically. Try to avoid adding dashes, and numbers to your domain. Remember the best domain name is one people can easily remember.
Building a Good Startup Website
Company websites are essential digital storefronts for developing businesses. As such, you should ensure that your startup company website stands out from the crowd. Good to Grow Dental launched their website before opening – meaning they were driving traffic to their business early. This helped them start off on the right foot with pre-booked appointments. Start your business the right way, by building excitement and a reputation online. 

Are you getting ready to launch your new business venture? Contact Digital Hill today to discuss building your startup website.